Year in Review: The 10 Ways Hope Remained in 2021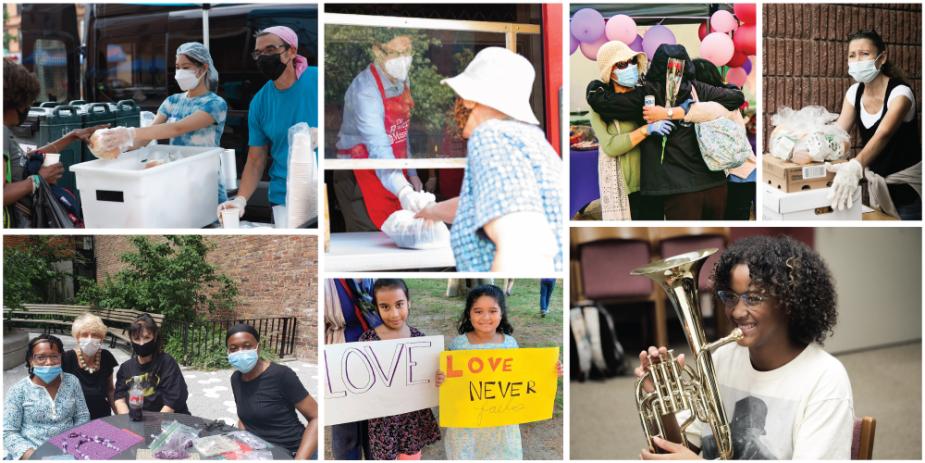 From Relief to Recovery to Rebuilding, we experienced every stage of emergency support during these two (and counting) pandemic years. In 2020, our network of supporters showed what our mission can accomplish by giving and volunteering more, to continue helping New Yorkers flourish. And we highlighted five incredibly hopeful moments. 
In 2021, we kept our focus on hope, even as we lamented the rise in anti-Asian attacks, prayed for the challenges our affiliate and church partner were facing, and adapted our work around the rise of Delta and Omicron. To round out the year, we focused our Fall Benefit on biblical hope, pointing toward the ways our affiliate partners are connected to our city's communities and to each other in hope.
Here are the ten ways that hope remained throughout 2021:
1. Pandemic Don't Walk By served close to 700 homeless neighbors
In February, Rescue Alliance adapted our annual winter outreach to a scaled-down version. More than 300 volunteers served (often repeating weekends) so that our homeless neighbors would be seen, cared for, and heard.
2. Virtual Homelessness Summit reminded us of God's faithfulness
Together, Rescue Alliance held our Homelessness Summit (postponed from 2020). We invited two special guests who shared their experiences with homelessness but also their encounters with God's love and provision. More than 300 attendees attended to be educated, equipped, and engaged on how to love our homeless neighbors.
3. Young Supporters Committee was revitalized as a Community
Since 2013, we've had a Young Supporters Committee (YSC) of young professionals who are passionate about pursuing mercy and justice in New York City. During the pandemic, we relaunched as a Young Supporters Community to encompass the wide breadth of our network, make new connections, and emphasize ways to serve. YSC also held a Winter Social in December to meet the network!
4. New Miles of Hope Challenge confirmed our love for NYC
Our new fitness and fundraising challenge motivated our supporters to walk, bike, run, etc., between affiliate sites in our city. Some supporters found creative ways to accumulate miles while still finding ways to give toward our affiliate partners. So many participants found special ways to reconnect with our city.
5. Pitch Night came back to award $20,000 to one affiliate winner
We resumed our annual Community Grants Circle, an invite-only program for major donors to dive deep into our grantmaking process. Pitch Night was the culmination of CGC, and many were invited to hear three affiliates give pitches on why additional funding would support their upcoming programs. In the end, one affiliate was voted by the audience to receive $20K, to keep serving a marginalized community in Staten Island.
6. Our Direct Grant amount continued to increase—by 16%!
Every year in June, we provide Direct Grants to our grant-receiving affiliates. These Grants are the highest amounts we give to support affiliate program planning for the coming year. By the end of our 2021 fiscal year, we had distributed $2.4 million in Direct Grants, plus $481,000 in Recovery and Stabilization grants. (See our Annual Report for more about our 2021 fiscal year.)
7. #TeamHFNY ran the 2021 TCS NYC Marathon for the first time
As a first-time charity partner with the NYC Marathon, we sent 16 #TeamHFNY runners to the race! Our runners (many running the Marathon for the first time) formed a community to train, guide, and support each other throughout the year. This peer-to-peer fundraising campaign also even exceeded the original giving goal of $75K!
8. His Toy Store celebrated 25 years of Christmas outreach
While we never expected to hit our milestone His Toy Store anniversary during a pandemic, we loved celebrating how far our annual Christmas outreach has come. We got in touch with the two women who started His Toy Store (Allison and Sobeyda) and asked them (plus two more long-time volunteers) to share their earliest memories. We loved every moment of bringing holiday joy to families in need, so that Christmas cheer can continue.
9. Mary Beth, our Manager of Volunteer Mobilization, began 
A new staff member started with us during the fall! Mary Beth has been a long-time HFNY supporter who has volunteered with Recovery House of Worship, managed St. Paul's House Movie Night as a Team Leader, and been Volunteer Chair for our Young Supporters Community.
10. Our Year-End campaign exceeded our giving goal!
December is a time focused on year-end giving, the last month in the calendar year when our network of supporters can ensure hope continues in a new year through giving. For our 2021 year-end campaign, the generosity of our supporters allowed us to exceed our giving goal of $1M to reach $1.49 million (including a match)! What this giving means is that we can support our affiliate partners in keeping the lights on for another year.
By starting 2022 with a reminder of how hope remained last year, we are more energized to lean into hope and keep it elevated for our affiliate partners and neighbors in need. We always remain thankful to our supporters for giving time and resources, and we always remain committed to our mission of seeing all New Yorkers flourish, especially during this ongoing pandemic!