Virtual Fall Benefit 2021: Four Hope-Filled Moments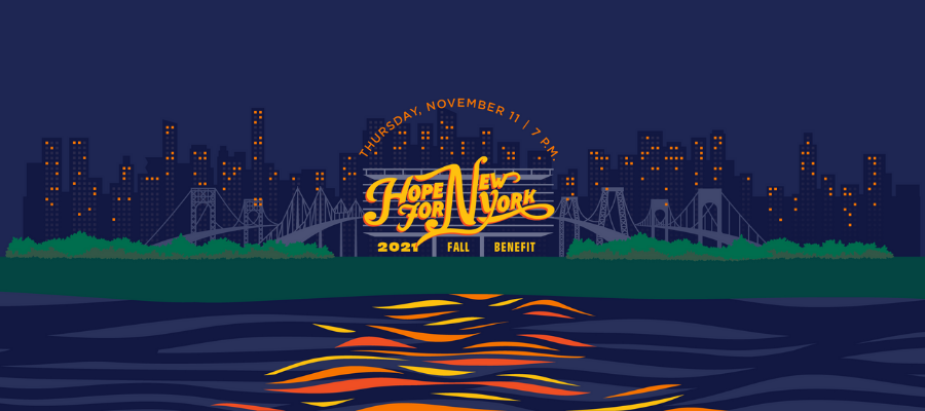 For a second year, we hosted a Virtual Fall Benefit on Thursday, November 11, live streaming from W83 Ministry Center.
As the challenges of the pandemic continue, we decided to focus on biblical hope and how our affiliate partners remain beacons of hope in our city. Here are the four most hope-filled moments of our night:
Defining Biblical Hope
How do our affiliates hope for New York City? And how do they define biblical hope? We kickstarted the evening with several affiliates—Avail, Do For One, Expect Hope, New Life CDC, The Bowery Mission, Community Connections for Christ, New Beginnings Center of Hope, The Open Door, Safe Families for Children—sharing what biblical hope means to them.
Bringing Hope Through Our Model
Our model has evolved through the years, becoming four parts that further strengthen our affiliates. Elise, our CEO, explains each part—grantmaking, volunteer mobilization, capacity building, collaborative networks—while City Relief shares how our model has supported their work during our partnership.
Finding Hope During the Pandemic
David Bisgrove, Senior Pastor of Redeemer West Side, hosted our event and led a conversation with three affiliates: Pastor Marian Hutchins of The Father's Heart, Dr. Mark Gonzalez of Operation Exodus; Pastor JC of REACH Family and Education Center. Each affiliate shared their organization's most difficult moments during the pandemic, plus the unexpected moments of hope they saw.
Reflecting on the Song of Hope
That One Ensemble, a truly gifted group of Juilliard students, performed an artistic piece with original music, choreography, and spoken word. They reflected on the four small letters, and the song, of hope.
This year, our giving goal remains $1.1 million and, together, the HFNY network has helped us reach $890,723 (as of mid-November). Even if you weren't able to watch our event, you can still join us to support and bring hope to our affiliates!
We are always grateful for all the incredible talent supporting our event, including our production, videography, audiovisual, and design teams!