FY2018 Annual Report
FY2018 Annual Report
Loving NYC Together
We believe volunteers are invaluable resources to our non-profit affiliates.
Skilled volunteers often play the crucial role of filling in the gaps within non-profits, enabling these organizations to do work they might not have the capacity to do otherwise. That's why we mobilized 3,253 unique volunteers to invest 43,051 total hours serving our non-profit affiliates across the city in FY18.
We believe transformation happens in the context of relationships.
Our desire is that New Yorkers would be committed to serving and forming relationships with their neighbors in need that lead to mutual life change. That's why we encourage volunteers to view serving as an integral part of their lives. In FY18, we saw 538 volunteers serve consistently, including 340 who routinely met one on one with participants in affiliate programs.
We believe volunteers should be developed and equipped 
to lead.
We want to equip our volunteers to lead others in loving and serving their neighbors well. In FY18, we invested in more than 80 Team Leaders, preparing them to lead and coordinate volunteers for a specific program at one of our affiliates. We also gave $213,743 in Volunteer Impact Grants, which fund our volunteers to run with creative programming ideas.
Prev
Next
Volunteering By the Numbers
TOTAL HOURS INVESTED BY HFNY VOLUNTEERS
UNIQUE VOLUNTEERS MOBILIZED ACROSS THE CITY
VOLUNTEERS IN LEADERSHIP ROLES
OPPORTUNITIES EACH WEEK FOR VOLUNTEERS TO GET ENGAGED AT OUR AFFILIATES
TOTAL PROGRAMS FOR VOLUNTEERS TO SERVE AT WITH OUR AFFILIATES
VOLUNTEER-LED PROGRAMS AT OUR AFFILIATES
Citywide Collaborative Outreaches
Don't Walk By
An annual initiative of the Rescue Alliance, a collaboration of faith-based organizations committed to serving the homeless. In FY18, all 10 of our church partners and 10 of our non-profit affiliates were integral in making this outreach happen.
HFNY VOLUNTEERS
HOMELESS NEW YORKERS REACHED
His Toy Store
An annual Christmas outreach that in FY18 brought together all 10 of our church partners and 17 non-profit affiliates to provide toys to families with limited financial resources across the city.
HFNY VOLUNTEERS
CHILDREN SERVED
We believe life transformation happens through holistic, faith-based programs.
The organizations we support through funding serve New Yorkers in need holistically, caring for them physically, emotionally, and spiritually. Because we want to see the needs of the entire person met, we support a breadth of programs at our affiliates. In FY18, we gave more than $2.1 million in grants to support non-profits providing holistic and faith-based services.
We believe long-term investment in organizations lead to renewal in our city.
The goal for our affiliates is that they would be positioned to serve their communities as long as their neighbors face resource constraints and unmet felt needs. That's why we desire long-term partnerships with our affiliates. In FY18, we provided first-time funding to four affiliates (Dream Center, Expect Hope, Prison Fellowship, and Urban Hope) and grew our support of programs at existing affiliates to allow them to deepen their services.
We believe our affiliates serve our neighbors even better when they collaborate.
We continue to see our affiliates work together to holistically support our neighbors in need. In FY18, we provided two collaboration grants—one to help New York City Relief expand services to help more New Yorkers access life—transforming resources and another to see Safe Families for Children create an intake center for overwhelmed families in need of support.
Prev
Next
Grantmaking by the Numbers
---
To fund existing affiliate programs (like soup kitchens, after-school mentoring, and career clinics) and seed new initiatives.
This includes $45,000 in collaboration grants to catalyze innovative collaborative initiatives among HFNY affiliates.
---
Capacity Building Grants
$75,000
To increase the effectiveness of our non-profit affiliates.
These grants provide opportunities for trainings, consulting services, and leadership development to promote best practices and strong infrastructure at HFNY affiliates.
---
Volunteer Impact Grants
$213,743
To empower volunteers to innovate, equip volunteers, and maintain current programs at our non-profit partners.
---
Total Grantmaking
TO SUPPORT OUR NON-PROFIT AFFILIATES.
OUR BIGGEST YEAR YET.
$2,165,743
We believe non-profits should be strengthened from the inside out.
Our affiliates are full of passionate people working to love their neighbors, and we want to see them do that work even better. That's why in FY18 we provided 8 capacity building grants to support our affiliates in areas ranging from practical needs (conducting a board evaluation to improve governance) to strategic goals (improving and evaluation systems to track program impact).
We believe sharing knowledge is a powerful way for our affiliates to grow.
We prioritize going deeper by developing training that allows our affiliates to come together and learn alongside one another. In FY18, 33 affiliate staff participated in our first-ever Learning Labs, a cohort-based program that offers intensive, consultant-led learning opportunities. We also continued our Bagels and Best Practices series to cover intro-level topics of non-profit management and best practices.
We believe it is important to develop leaders at new and growing non-profits.
Most non-profits start because someone with a passion for a people, neighborhood, or issue decides to do something about it—but, often, new non-profit leaders aren't familiar with all the ins and outs of running a non-profit organization. That is why we support our newer (and growing) affiliates to develop their leaders. In FY18, five affiliate leaders participated in our Learning Labs Accelerator cohort.
Prev
Next
Capacity Building By the Numbers
AFFILIATE STAFF MEMBERS PARTICIPATED IN OUR FIRST-EVER LEARNING LABS TRAININGS.
OF OUR GRANT-RECEIVING AFFILIATES PARTICIPATED IN AT LEAST ONE CAPACITY BUILDING ACTIVITY.
AFFILIATES RECEIVED CAPACITY BUILDING SUPPORT FOR SPECIFIC PROJECTS
Our 10-year Vision: Growing a movement of mercy and justice
We want to see even more Christians, organizations, and churches working together to see all New Yorkers flourish. That's why we launched our 10-year vision in 2017 to expand our current network by 2027—ultimately so we can holistically love and serve even more of our neighbors in need.
53 Affiliate Partners
11 Church Partners
90 Affiliate Partners
30 Church Partners
A Case Study on Volunteering

The Challenge
Prison Fellowship was looking to launch an intensive life-skills coaching module for its Academy program for those preparing to exit Rikers Island and re-enter their communities. Prison Fellowship also wanted to increase awareness of and recruit volunteers for its programs throughout the city.
How HFNY Helped
HFNY encouraged and created space for Prison Fellowship to host two Info Sessions, which HFNY pushed out to our network of partner churches and potential volunteers. The Info Sessions gave Prison Fellowship the chance to connect and share its vision for the program with 46 people interested in learning about serving at Rikers Island. HFNY also provided coaching on strategies to continue recruiting volunteers.
The Result
The volunteer team at HFNY worked with Prison Fellowship to build out a strategy for recruiting volunteers for Prison Fellowship's New York-based programs, including launching the life-skills coaching module on Rikers Island. In addition, eight HFNY volunteers served at a Prison Fellowship ice skating event for children who have an incarcerated parent, and five HFNY volunteers committed to praying once per week each for the work of Prison Fellowship through a virtual prayer team.
Other Ways HFNY Supports
HFNY also provided Prison Fellowship with funding to support its Rikers Island Academy, a 12-week program for a cohort of 20 or more men who live together and attend daily classes on relationships, criminogenic risks, substance abuse, and spiritual formation.
Prev
Next
A Case Study on Grantmaking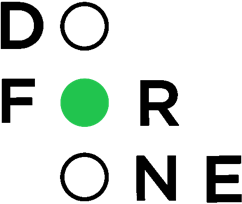 The Challenge
As a relatively new organization seeking to develop and grow its work in New York City, Do For One wanted to attract new donors to its work and diversify its funding sources in order to work toward a more sustainable donor base.
How HFNY Helped
In addition to direct grant funding, HFNY provided a $10,000 matching grant to Do For One in order to provide incentive for the organization to seek out and appeal to new donors. Our belief is that a diversified funding base is more sustainable and will allow Do For One to develop and ultimately catalyze more New Yorkers living with disabilities to reach their full God-given potential.
The Result
Do For One successfully reached its $10,000 matching grant. In total, 27 donors were involved in helping Do For One complete its matching grant, and five of its current donors increased their giving by 82 percent.
Other Ways HFNY Supports
HFNY also awarded Do For One a capacity building grant to help shape strategic direction and bring clarity to its model and growth plan. In addition, the executive director participated in the Board Development Learning Lab, where best practices and ideas are shared among a cohort of peers as facilitated by a consultant. HFNY volunteers also serve at Do For One as advocates who are matched with one person with disabilities in need of guidance, companionship, or advocacy and build relationships through community gatherings such as movie and game nights and karaoke nights.
Prev
Next
A Case Study on Capacity Building

The Challenge
While Safe Families for Children is part of a national organization with a strong mission and values, as a newly formed independent local chapter, it was responsible for adapting its strategic approach to its local context. New York City presented some particular challenges to the typical national approach.
How HFNY Helped
HFNY provided a capacity building grant to Safe Families to work with a consultant to shape its strategic direction in New York City. The project focused on several areas, including program outcomes, board development, and fundraising. The executive director also participated in HFNY's six-month Board Development Learning Lab, where best practices and ideas are shared among a cohort of peers as facilitated by a consultant.
The Result
Safe Families was able to craft overarching strategy documents that will help guide decision making. The organization also created board documents that positioned it for success in recruiting a local advisory board, as well as a fundraising plan.
Other Ways HFNY Supports
HFNY also provided funding to Safe Families for program-related expenses. HFNY volunteers serve in the following roles: Family Friend (supports parents and/or their children through babysitting, mentoring, and connection to local resources), Family Coach (coordinates a team of volunteers to ensure parents, children, and Family Friends have necessary resources), and Resource Friend (donates and delivers items and volunteer services to families).
Prev
Next
New Partners
Welcome to our three new affiliates and one new church partner!