Pandemic Don't Walk By: Hear from Volunteers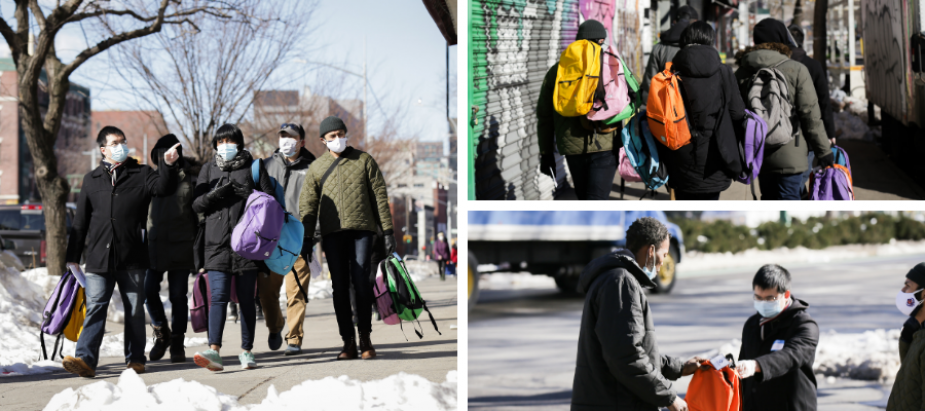 For over 12 years, the Rescue Alliance has been able to positively impact the lives of our friends on the street and provide them opportunities for change. In February 2020, we saw our most successful outreach in history, but this year, our annual winter outreach changed to Pandemic Don't Walk By.
What Stayed the Same
We still focused on four Manhattan regions (Downtown, East Side, West Side, Uptown), one for each Saturday in February. Each region had four launch sites, each site with (at most) 25 volunteers. These volunteers were then divided into five teams of five individuals. In total, our goal was to have 100 volunteers each weekend.
What Had to Change
To ensure the safety of our neighbors in need, our volunteers, and our staff, we primarily recruited from experienced Don't Walk By volunteers of the past to be Team Leaders and Outreach Volunteers. Volunteers received virtual trainings and debriefs before meeting their teams at the launch sites and target key areas (instead of every block).
What Volunteers Provided
Volunteers connected with neighbors experiencing homelessness by distributing backpacks filled with daily essentials, providing prayer and conversation, and providing resources with details for meals and overnight hospitality at either The Bowery Mission or New York City Relief. Even though Pandemic Don't Walk By looked different this year, both Team Leaders and Outreach Volunteers unified and make a big impact this year.
What Volunteers Shared About Their Experiences
"Truly blessed to have such a compassionate and friendly group of volunteers that made such an impact on our neighbors on the street. Truly the hands and feet of Jesus!" — Team Leader Cindy D.
"P-DWB has increased my respect for fellow New Yorkers experiencing homelessness. Through the training by New York City Relief staff, and by talking with people on the street, I'm less inclined to think I know what's best for them (which is rather patronizing), and more inclined to listen." — Team Leader Carolyn J.
"Canvassing the city and making connections with our neighbors on the street, truly a blessing that brings glory to God." — Team Leader Anastasia B.
"[I was] thankful for all the mini-conversations we had while walking—such a blessing to see God's Church at work in our city in and through us!" — Outreach Volunteer BB Emerson
"I found that our conversations were encouraging both to my team and to our friends on the street."  — Team Leader Megan J.
"We talked with many neighbors living on the streets, heard their concerns, and shared resources." — Team Leader Joe S.
Watch This Pandemic Don't Walk By Video
In total, 369 volunteers (315 unique volunteers) served this year, engaging with 667 guests and distributing 559 backpacks! We are so thankful for all the volunteers who served multiple weekends (some all four weekends) and showed their love and heart for our city's most vulnerable neighbors.
See highlights of volunteers in action this year!