His Toy Store Reimagined 2020: The Impact Volunteers Made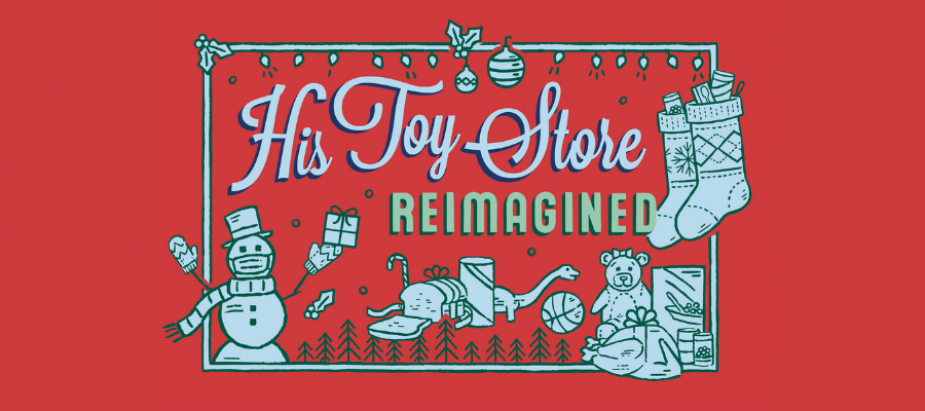 Last year, when we launched His Toy Store Reimagined, the pandemic version of our annual Christmas outreach, more affiliates were able to participate to serve New Yorkers in need. 
Many affiliate partners also shared which volunteers made a difference last year, so we asked to share their special shout outs about the volunteers that went the extra mile:
A House on Beekman
"Since we have been operating within the context of a global pandemic for the entirety of this grant period, our volunteer opportunities have been limited in comparison with volunteer opportunities during regular in-person programming. However, we have had some amazing HFNY volunteers partner with us over the past six months, and we are so grateful for their investment in our programs! Our volunteers for His Toy Store Reimagined were particularly helpful, as they helped us wrap over 250 gifts for our families! We have also had a faithful volunteer who has provided invaluable support to our primary education students, as he has offered one-on-one math tutoring to a handful of our students. 
"We had five amazing volunteers come to our sites to wrap gifts and make holiday cards for families. Not only were the volunteers' presence a huge encouragement to our staff who facilitated the volunteer event, but we also felt that the extra steps of wrapping each gift and hand making holiday cards helped our families feel loved and valued this holiday season."
Image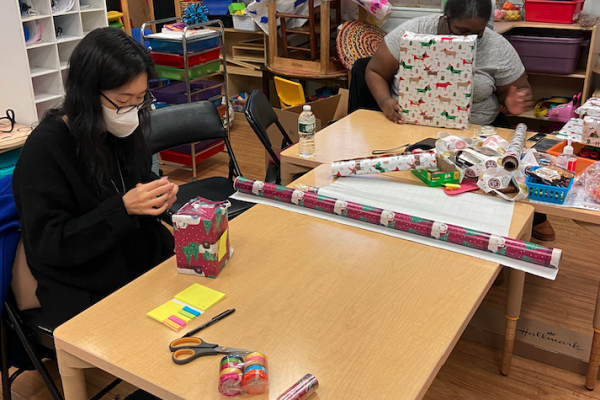 Image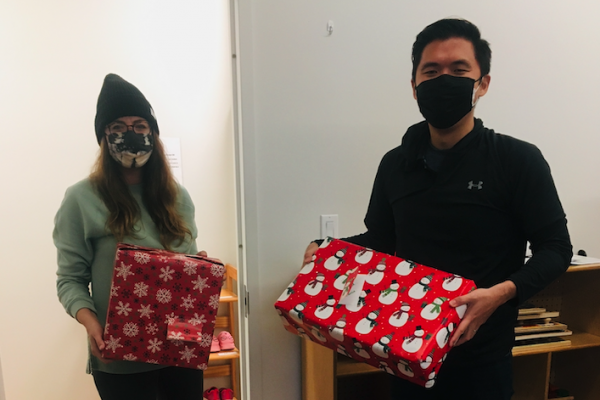 Beacon Christian Community Health Center
"Our two volunteers were WONDERFUL! We could not have succeeded our first year without their invaluable assistance. We prepared a list of 75 families in need who would be receiving Target gift cards. The difficult part was informing the 75 families and scheduling them to pick up the gift cards at our office. The volunteers each called 25 families and did a great job calling everyone on their list—in some cases more than once—to give them dates and times of the gift distribution. Moreover, this was all done in a short timeframe. It is not too much to say that the Hope for New York volunteers made all the difference. We thank them from the bottoms of our hearts!"
Image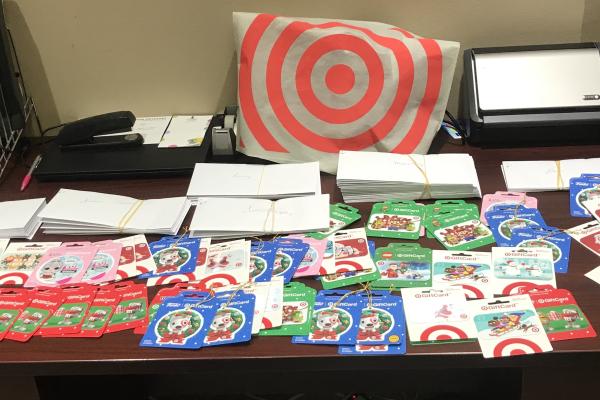 Center for All Abilities
"In addition to the incredible volunteers in our Walk With U Mentoring program, we are so grateful for the His Gingerbread House  volunteers from Exilic Church! We could not have been more impressed with them!
"They were so easy to work with, full of ideas, flexible, and just a wonderful bunch of people. They not only helped with packaging all the craft items for families, they also attended the His Gingerbread House event to have a fun caroling sing-a-long and to provide a wonderful dramatization of the Christmas Story. We were able to share the Christmas story and hope of Jesus with 75 children, youth, and young adults, plus their families. Exilic Church volunteers were an absolute joy to work with, and they inspired us with their willingness to get onboard with creativity and with our wacky suggestions. We've stayed in touch with them and look forward to connecting with them more!"
Image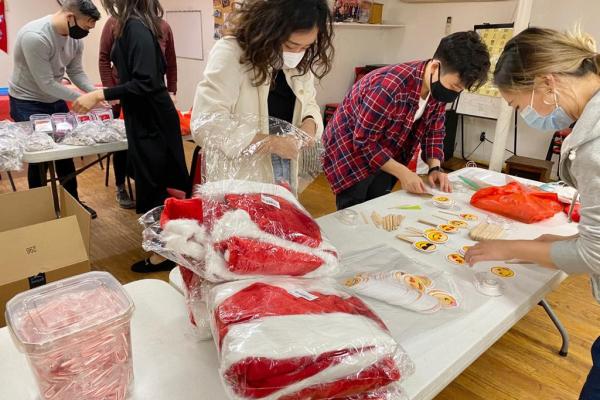 Image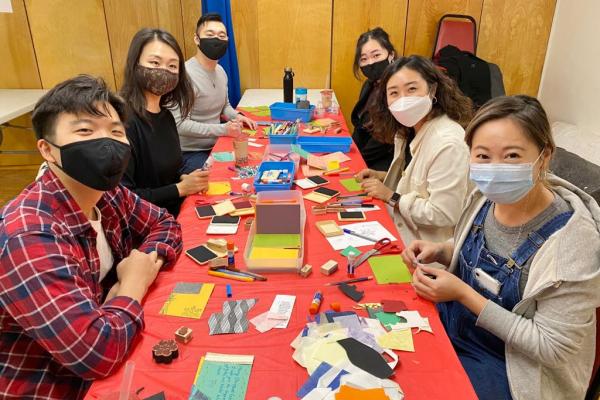 The Father's Heart
"For the past two years we have had the same amazing volunteer team from HFNY. These volunteers give 100% to this event in terms of service, zeal, compassion and creativity. They decorated so beautifully and creatively, which so many were in awe of, and it brought a joy and celebration to the hearts all of who participated. They figured out creative solutions for a reimagined event and for the several "glitches' that we encountered last year. Having the same team created a momentum that was evident in their unity and dedication. We felt extremely blessed to have each and every one of them!
"The parents were so encouraged by the love and support shown to them, from the personal shoppers to the gift wrappers to those who engaged with their children to each and every dear volunteer bearing the image and love of God! We are so grateful!"
Image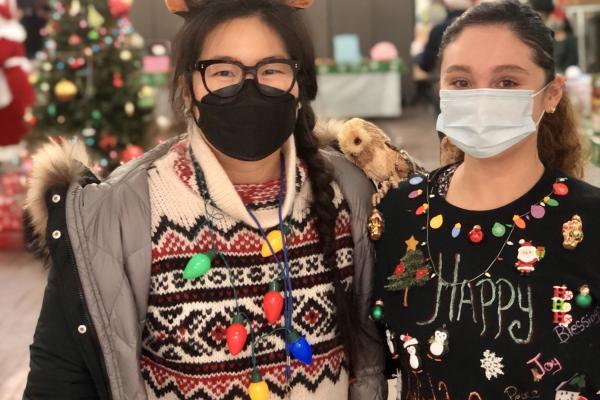 Image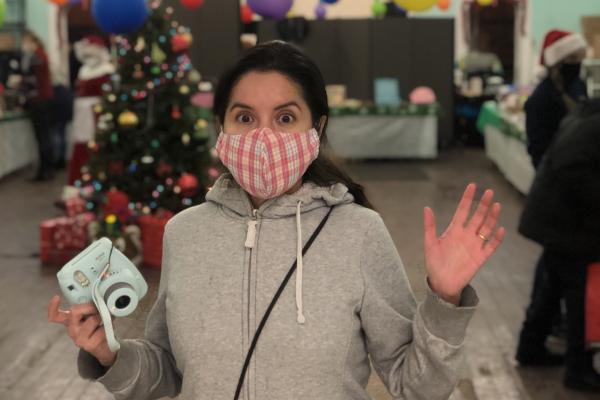 Graffiti
"A long-term and very committed HFNY volunteer participated in our His Toy Store event. He was especially valuable in that he works weekly with feeding people from the community, so he was known to many of the people who came to our Toy Sale! He is one of the most effective volunteers, and he displays a love for Christ and a concern for our community."
Image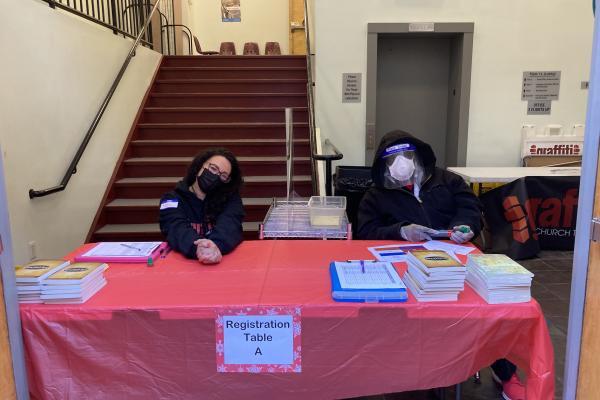 Image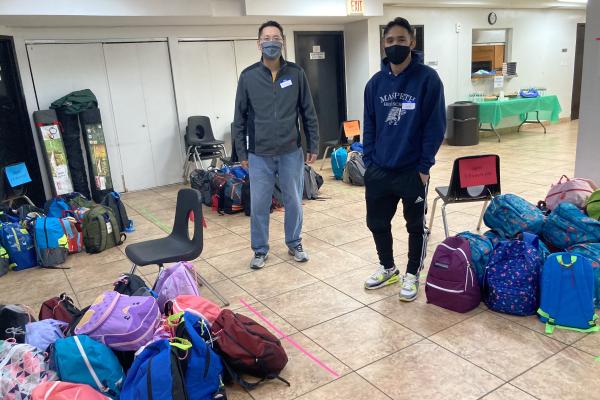 Graffiti 2
"Our Christmas season often fills with out-of-city teams and ministries that partner with us to provide parties and activities for our students and families. This year, those teams did not get to join with us, but we did not want to let the season go by without celebrating with our friends and community. So we planned an event that required many hands to connect with our families. Thanks to HFNY volunteers, our ministry center provided a to-go gift for over 200 individuals in our community on Saturday, December 12.
"HFNY also provided the funds to provide a hot meal for everyone. Individuals received a fresh-made breakfast sandwich prepared by Simplicity Gospel Mission's food truck, a bottle of juice, Christmas sweets, dried food packets, a Bible, plus a winter hat, gloves, hand warmers, and mask. Our community was greeted with warm smiles and encouraging words as they interacted with this group of servants of Christ. People were prayed for and with by our great volunteers. The connections strengthened our ongoing ministry and helped our staff build relationships more in the South Bronx."
Image
Image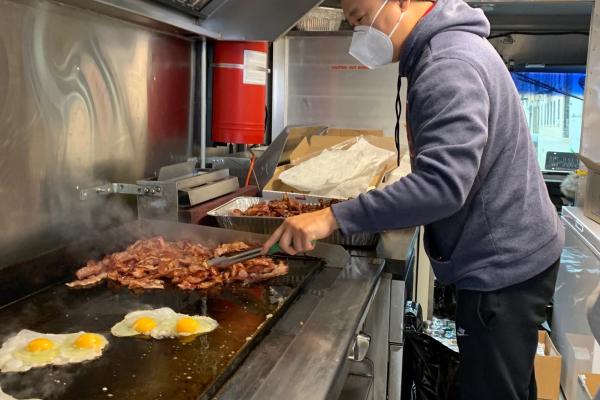 Hillside Education Center
"The volunteers from Wellspring Church were fabulous. They jumped right in with holiday Zoom backgrounds and Santa hats and gave our virtual party extra enthusiasm. They connected well with the kids and gave the virtual games extra flair. Before and during the party, they were also supportive and excited about the having a Christmas party with kids in our community."
Restore NYC
"Volunteers collected and donated hygiene supplies, winter coats, handmade scarves, and handmade reusable cloth face masks for Restore clients as part of this holiday grant. For the hygiene supplies, volunteers donated feminine hygiene products, laundry detergent, soap, toothpaste, and mouthwash. These items were distributed to clients in need, whether they are spending their first nights of freedom in emergency housing or living independently and unable to afford these products on a regular basis.

"During the cold winter months in NYC, many of the women we serve are unable to afford winter coats. Therefore, the holiday grant provided additional volunteers who collected and donated gently used coats for women enrolled in Restore's programs. Some volunteers went through their own closets or recruited family members to do the same; others started a coat drive in their church; others had coat drives in their workplace. Each volunteer had the freedom and creativity to collect coats within their communities. In previous years, we asked one or two volunteers to start a clothing drive in their corporate offices, and we were able to collect all our needed coats through less volunteer engagement. However, due to the pandemic with corporate workplaces being closed, the holiday grant allowed us to reach out to and recruit a greater number of volunteers across various business sectors. This multifaceted approach was also made possible with HFNY's volunteer recruitment. Thanks to the generosity of HFNY volunteers, current Restore volunteers and church partners, over 50 coats were donated and distributed to clients. In additional, we'll be able to provide an estimated 50 more coats in the coming months.

"One HFNY volunteer and her family even hand-sewed 40 masks for Restore as part of her children's high school community-service project. These volunteers spent 10 hours making the masks, which will be distributed to clients in need."
Safe Families for Children
"We had multiple HFNY volunteers deliver presents to parents who couldn't make it to our His Toy Store event. Two volunteers came to Brooklyn just to pick up and deliver presents to a mom that lives near them. One of those volunteers also helped us by communicating in Spanish with one of our moms who couldn't find the event. He was able to help her find us, so that she could get her toys and gifts. On Christmas Eve, another volunteer delivered the remaining gifts to four families. She went to Harlem, two places in Brooklyn, and even Staten Island! We were so grateful."
Image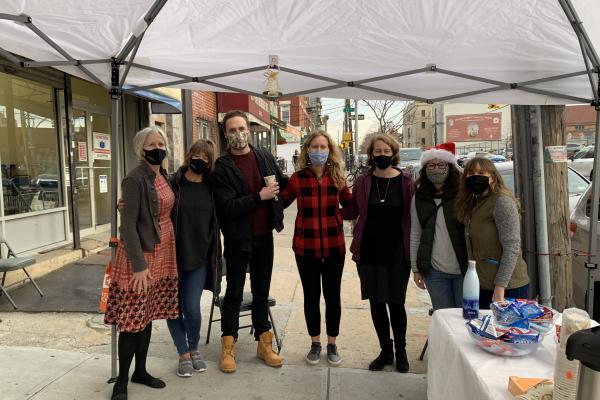 We are always thankful to our incredible volunteers for continuing to serve and live out their faith!