His Toy Store Reimagined 2020: How Affiliates Provided for New Yorkers in Need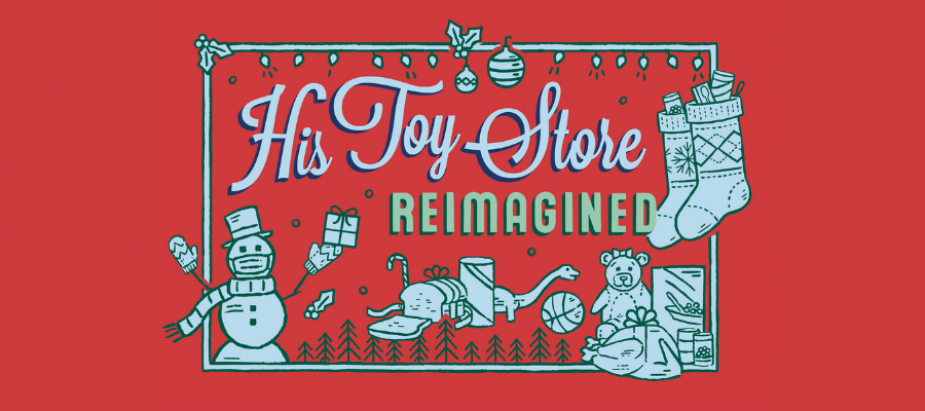 The second year of His Toy Store Reimagined (our pandemic version) is under way, and it's also our 25th year of His Toy Store!
We asked our affiliate partners for the heartwarming stories they remembered from last year's His Toy Store Reimagined, and here is what they shared. (You can also read the impact that His Toy Store Reimagined volunteers made last year.)
A House on Beekman
"One of our Primary Education students lost her mother to COVID in the fall. This child and her mother and father have been involved in our programs for six years, beginning with our Babies-3 program. The trauma that the child and her father have endured were immense, and finances were very tight as the father lost his job during the pandemic and struggled to pay for the funeral service.

"On the day of our His Toy Store Reimagined event, the child and father were the first to arrive. With tears in his eyes, the dad expressed his gratitude that he would have a gift for his daughter, and he thanked us for putting together a meal that 'even he could cook.' He was nervous about his gingerbread building skills, but we reassured him that there is no right way to construct a gingerbread village and encouraged him to let his daughter take the lead. We are truly grateful to HFNY for your partnership in helping us bless our families with tangible gifts, as well as encouragement, support and love."

Center for All Abilities
"Our His Gingerbread House event gave us the opportunity to reconnect with some families in our community who are no longer in Center for All Abilities programming. Annual events generally allow for this reconnection, but this year we have had less opportunities to reconnect due to the pandemic. We had 55 families (75 children) join us, and about a third of them were either former CAA participants or from partnering organizations outside of CAA. We truly valued the opportunity to see these families, especially since the event was one full of smiles, laughter, and connection. We hope that the open, inclusive event inspired the families to rejoin and take advantage of the resources/programming we provide, and the opportunities to reconnect with their community!"
The Father's Heart
"Many of the moms were in tears at the outpouring of love and celebration demonstrated at our His Toy Store pop-up. So many expressed gratitude and surprise that His Toy Store was still operating amidst all the restrictions, and they also appreciated the safety protocols that were in place. Mom A.L. shared that she is having such a tough time financially and emotionally. She was so relieved to get the toys and super grateful to be in touch with us. Her sentiment was that, it's not only about getting a toy, but about the fact that someone was caring for, supporting, and loving her and her kids.
"Mom T.S. attends our KidZone program, but because we have had limited contact with everyone, she wasn't aware of His Toy Store. She finally saw an email about it and regretted not seeing the email earlier, as her children did not have a Christmas at all. We had a few gifts left over and, miraculously, they all matched the ages and genders of her children! Even though it was after Christmas, she was able to receive the gifts for her children as well as Bibles."
Graffiti 2
"Mom C. has three children who have grown up in our program, and she recently had another baby. The father of the first three children was shot and killed this summer. Her boyfriend was recently in the ministry center sharing how stressed he has been with trying to take care of the family since he lost his job. Through the pandemic, Graffiti 2 has been able to help them with practical items such as groceries, diapers, and formula. The children have been participating in our Study Hall program which provides a stable place for remote learners to log on to their classroom. In the month of December, some of the family members got sick and, as a result, they had to quarantine. Their presence was missed.
"Andrew, Executive Director of Graffiti 2, shared: 'On the day of delivery for our Christmas outreach, I helped make deliveries to the family. I waited on the street while two others took backpacks and gift cards upstairs to their apartment. A few moments later, [one of the kids] was standing in the doorway. He looked at me, smiled, ran towards me, and gave me a big hug. Many times Mom C. has expressed her thanks for Graffiti 2 walking with their family through this difficult season.'"
Restore NYC
"Thanks to the HFNY holiday gift card, 'Sylvia' was able to prepare an extra special Christmas surprise for her two children. Due to her circumstances, both of her children do not live with her. It has been difficult for Sylvia to be away from her children. When speaking with her, it was obvious how much she adored her children. Sylvia had been sharing with her Counselor Advocate how sad she was that she was unable to send her children gifts for Christmas. When the Counselor Advocate called the client to inform her about the HFNY holiday gift card, Sylvia was giddy with excitement. She expressed incredible gratitude for the opportunity to do something for her children this Christmas. The HFNY holiday gift card was the perfect way to end a difficult year."
Safe Families for Children
"Mom P. and Dad G., parents we serve in the Bronx, have eight children and have been paired for a year now with Volunteers R. and M., who have 6 children. Volunteer M. and Mom P. both talk and text several times a week, supporting each other with the common challenges of navigating their large and wonderful families, especially now with remote learning.
"With Dad G. in the hospitality industry and unemployed for the last 10 months, the number of Christmas presents they were able to 'shop for' through Safe Families for Children's Toy Store were a joyfully appreciated gift, in addition to the gift cards for their family's essential needs. Then, a few weeks later after 14 years of being together, they decided to get married! They invited Volunteers M. and R. and said their vows on a cold Wednesday morning in Central Park!"
His Toy Store is always made possible through the generosity of our supporters, for their giving and volunteering. This year, our network helped us exceed our goal to fundraise $157,086 to provide toys and basic needs to 20,000 New Yorkers in need.