Welcome! We're thankful you signed up to volunteer to serve our city's most vulnerable and marginalized communities. We are also thankful you are sharing your time, energy, and presence with our affiliates. Before you start volunteering, we want to provide an overview of what volunteering means at Hope for New York.
---
---
Why Is Volunteering Important?
Our Core Beliefs
As part of our vision and mission, our understanding of Christ's sacrificial love and generosity motivates us toward offering our time, energy, talents and resources in the service of others. We have the privilege of helping to develop spiritual and material healing, without a false sense of superiority, judgment, or an "us vs. them" mentality. These six core beliefs further explain why we believe it's important to serve the vulnerable and marginalized in our city:
God has special compassion for the poor. God created the world to flourish—without oppression, disease, poverty, or suffering. When sin entered the world, so did injustice—from broken systems to individuals. Because God desires to restore His creation, He cares deeply about those who are poor or marginalized.
True flourishing is holistic flourishing. Jesus cared for the poor, healed the sick, and advocated for those who were oppressed or marginalized. When we seek flourishing, we are not only meeting a specific need but seeing a whole person—and their physical, mental, emotional, psychological, and spiritual aspects.
Our deeds of mercy are evidence of God's grace in our lives. We exemplify Christ's great act of mercy when we allow God to work his acts of compassion and justice through us. If we don't honor the cries of the poor, we don't honor him because we hide his beauty from the world.
Doing justice and mercy necessitates sacrificial generosity. Everything we have is from God—our money, our influence, our time, our talents. Doing justice and mercy includes sacrificial generosity—a willingness to disadvantage oneself in order to provide for those in need.
We serve with a spirit of humility and compassion. Guided by the example of Christ's humility in his humanity, we seek to truly see our neighbors. We also seek to receive from them as we enter into mutually transforming relationships.
Our responsibility to our neighbors includes both mercy and justice. Biblical justice means giving people what they are due as image-bearers of God—this includes righting wrongs, ensuring fair and equitable treatment, defending those who do not have power, and demonstrating God's love and compassion. 
Watch this video to understand why mobilizing volunteers is important to us in growing a movement of mercy and justice.
Why Our Volunteers Serve
Through the years, many of our volunteers have shared why they serve and what they have experienced. Some of these reasons include:
>> Read more volunteer stories
Watch this video to hear three dedicated volunteers share why they continue to serve in our city.
---
Before You Volunteer: What You Need to Know
Qualities of a HFNY Volunteer
In order to serve the needs of others well, several qualities should be evident in the life of anyone seeking to volunteer with HFNY:
Christian – Because we are a faith-based organization that also partners with many faith-based organizations, we seek to involve people who have experienced the grace of Christ and responded in repentance and faith. However, you do not need to be a member of a church to volunteer, and being a Christian is not a requirement. Please note: some of our affiliates may require specific faith beliefs in order to support their communities in deeper ways.
Compassionate – Volunteers must be sensitive to the needs of others. We minister out of the mercy that Christ has shown us.
Committed – It is important to honor your commitments to a schedule. If you can't make a date, please contact your Team Leader or HFNY well in advance. We believe that the best way for Christians to serve the needs of others is to do so together; we are part of a team because there is strength in community. 
Image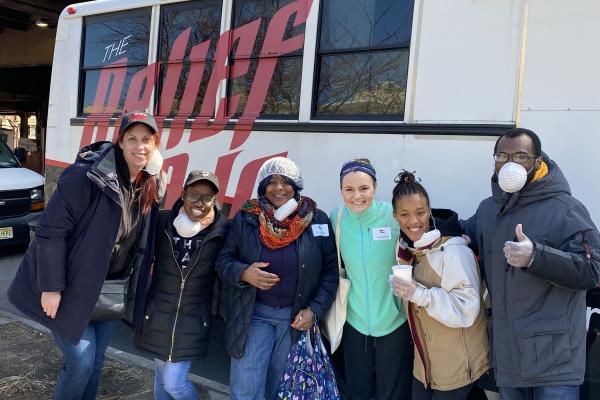 Image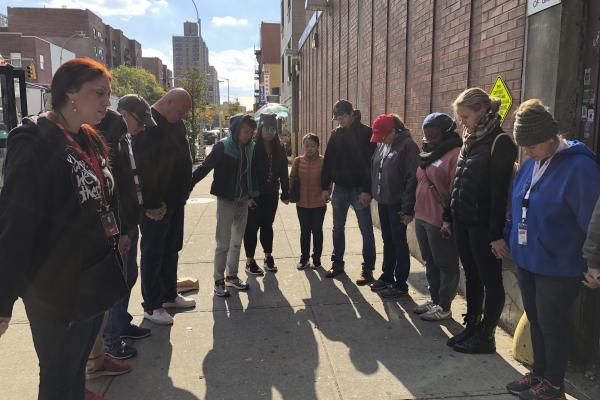 Guidelines for Volunteering
Here are general guidelines for interacting and engaging with affiliates, new communities, and population groups.
 
Listen, learn, and seek - Create genuine relationships with the people you serve. Ask what their needs are, and then actively listen. Suggest solutions and/or prayers, depending on the need. We believe volunteering can be transformative for you, too.
Have a posture of humility and respect - Be humble toward both affiliate staff and the communities they serve. Remember, affiliates do this work every day, so they know what will serve our neighbors best, and their communities also know their experiences the most.
Show up on time and keep going back - Real change happens over time with consistency and dedication. Volunteers that stay committed make all the difference. Also remember to show up on time and maximize your volunteer time. If you need to cancel, make sure to minimize cancellations and do so in advance.
Remember Christ's love for us - Volunteering isn't always easy; there will be difficult moments and you won't always get a "thank you" for what you do. Christ's love should be what motivates you!
Be flexible and gracious - Sometimes, things don't go the way you thought...or even told they would. Keep in mind that you're volunteering to serve the needs of others—so anticipate curve balls, and be open-minded to changes and feedback!
Also, if you are volunteering in person during the COVID-19 period, remember to follow each affiliate's guidelines for health and safety. We want to make sure all volunteers (plus affiliates and their communities) feel comfortable.
Occasionally, you may need to set specific boundaries for yourself and the community you're serving. If a situation arises during volunteering that causes you to feel comfortable, or to feel concerned about safety for yourself or anyone else, please let us know. Email volunteer@hfny.org with your concerns and we will work with you to address them asap.
Image
Image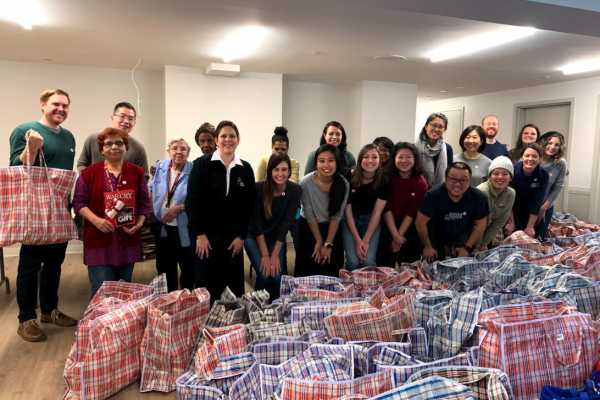 How Volunteers Are Supported
Depending on the volunteer opportunity, our affiliates offer specific orientations, trainings and/or info sessions. These may be prerequisites for new volunteers, and they're conducted by affiliate or HFNY Volunteer Team Leaders. Our Team Leaders are a dedicated role at HFNY; most of our affiliates have a HFNY Team Leader that manages, coordinates, and/or trains other volunteers. If you don't see these available for sign up on our Volunteer page, check with the affiliate and/or Team Leader for these opportunities.
Currently, we no longer offer orientations or training sessions to volunteers. Instead, we offer periodic equipping and learning events (e.g. network talks, conferences, workshops) on specific topics (e.g. homelessness, immigration, justice, etc.). These events feature guest speakers (often affiliate and ministry leaders) who are knowledgeable in their fields. Anyone is welcome to take part in events, whether or not they volunteer through HFNY.
Volunteering Resources
In addition to our Mercy & Justice Resources page, here are additional resources to develop you as a volunteer.
Volunteering FAQs
If you still have practical questions about volunteering, like how to sign up as a group or how to update your profile, please visit our FAQs page.