What we learned from Tim Keller & Bryan Stevenson last week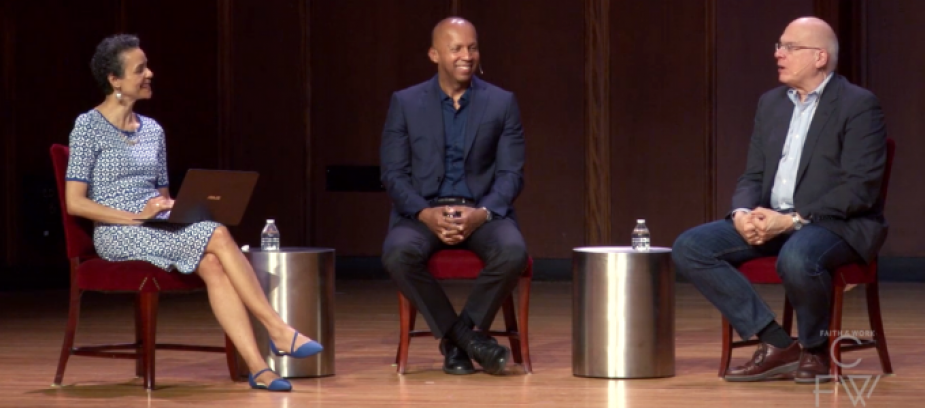 Last week, Rev. Timothy Keller of Redeemer Presbyterian and Bryan Stevenson, a nationally recognized public interest lawyer and author of the NYT bestseller Just Mercy, spoke together about race, reconciliation, mass incarceration, systemic injustice, and the church.  
It was part of an event called "Grace, Justice, and Mercy" we co-sponsored with Redeemer and Center for Faith and Work, and what we heard from Keller and Stevenson (who has devoted his life to defending the poor, incarcerated and condemned) was equal parts heartbreaking, challenging, and inspiring. 
We think it's worth watching the entire 2-hour program (watch below), which is full of stories and wisdom from both Stevenson and Keller, but here are some of our takeaways from the evening: 
God is on the side of the weak and the broken: Keller reminded us that, in the Bible, God introduces Himself as a father to the fatherless, a defender to the widows. If Christians aren't concerned about mercy and justice, Keller argued, then how can they claim to have vital relationship with a God who is deeply concerned about it? 
To do justice, we have to "get proximate" and "get uncomfortable": If we are really going to "do justice," Stevenson argued that we must get close to brokenness, suffering, and oppression. This won't be comfortable, but, if we are going to see true justice happen, we must sit with and understand those who are suffering, abused, or oppressed.
Corporate acknowledgement of and repentance for racial injustice is crucial if we are going to move forward: Stevenson challenged us to come to terms with the narrative of racial injustice and white supremacy in this country. "Slavery didn't end in 1865, it just evolved," he said. "For decades in this country we terrorized people of color." True justice can't happen, he argued, until the sins of our past are exposed, acknowledged, and dealt with. Only then, Stevenson said, can we start the work of  repair and recovery.
We are called to see redemption where there is condemnation: Stevenson told us we have to be hopeful, even in the face of so much injustice, so much suffering. "As Christians, it's sometimes easier to be faithful than hopeful," he said. But, as Keller reminded us, we know that we have a Redeemer who will ultimately "set all things right." So we must live and work out of that hope for healing and restoration.
In Christ, we find the strength to do justice without giving up: "If you do uncomfortable things, it will break you," Stevenson said, "but in brokenness, we are filled with grace and mercy." And Keller reminded us that if we "get a grip on the gospel," understanding that Christ, who became poor and broken for us, fuels us by his power and love so we can serve without giving up.
So, what's next?  A practical way to engage next month is to attend our Hope after Prison workshop and dinner on June 8. We've invited three of our affiliates-- Defy Ventures, Exodus Transitional Community, and Open Hands Legal Services-- to lead a discussion of the realities and challenges formerly incarcerated individuals face as they return to life after prison. We'll share dinner together, learn from affiliate staff about their work, and hear about ways to get involved in supporting the life transformation of men and women with criminal histories. 
But, beyond that, we're praying the event stirred up a desire within our community to "get proximate" to poverty, suffering, and neglect, to be agents of redemption and grace in New York City. We're looking forward to seeing where this leads.