National Volunteer Week: 4 Dedicated HFNY Volunteers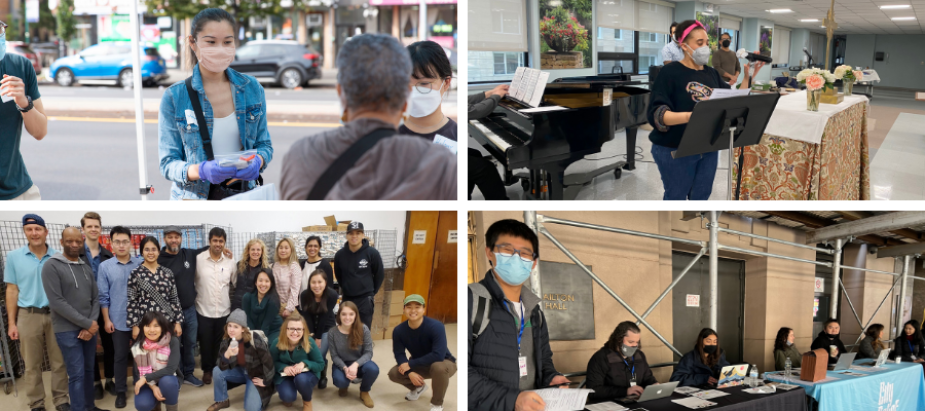 During National Volunteer Week (April 17 to April 23), and we really thank all our volunteers enough for continuing to serve our affiliates and neighbors in need! We're also spotlighting four volunteers who connected with affiliates through our church partners. Hear what it means for them to serve different communities:
Image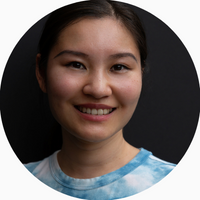 Vianna Chan (City Relief, Hope Midtown)
"I love that HFNY already has a strong network of trusted affiliate partners. I attended my first Don't Walk By back in 2018 and led a team from my church Hope Midtown as part of a ministry project. Little did I know, working with HFNY became a gateway to exploring justice and compassion as a resident of NYC. During the pandemic, I read articles of how much COVID disproportionately affected our neighbors experiencing homelessness.

"There was no better time than now to serve, so I connected with City Relief. One of my favorite moments of the outreach is getting to greet guests, hear their stories and prayer requests, and see them jam out to a really good throwback song!"
Image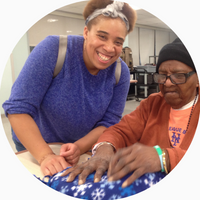 Sabrina Booth (UES Rehabilitation and Nursing Center, Redeemer East Side)
"The opportunity to serve UES Rehabilitation and Nursing Center came to me six years ago through a friend. At the time, I was not sure what to expect, but I always knew that I wanted to serve this community in some capacity. Ever since that day, I continue to feel immense joy, laughter and love when I am with the residents.

"Many of them look forward to having us come and do the worship service each Sunday. One resident said, 'You guys really uplifted my spirit today. I needed it.' What I have come to realize is that we are showing the love of Jesus to them and reminding them that they are not forgotten, but seen and appreciated."
Image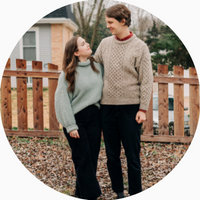 Julia and Joseph Smith (Recovery House of Worship, Emmanuel Anglican Church)
"We have been serving with HFNY for about three years, primarily at RHOW Brooklyn's food pantry. We have also worked with The Bowery Mission Women's Center and Dream Center. Since our church is not near our Brooklyn home, we wanted to find a way that we, along with fellow Brooklyn residents in our parish, could serve our neighborhood together.

"Consistency is everything. It was hard at first to get people to join us each week, but as we continued to show up, more people joined along the way until we had a core small group of people volunteering each week. We set the dates we would attend from the beginning and it has made it so much easier for people to get involved.

"We have been so thrilled that RHOW has created an amazing system for serving the borough, and we have been more than happy to work alongside them. Even when we are approached by or we see a person experiencing homelessness, we can direct them to a place in our community that will care for them in mind, body, and spirit. Hope for New York made it so easy for us to find a place, time, and mission to be a part of, and we are so thankful for the ways it connected us to our borough."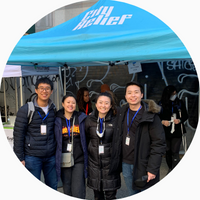 Albert Lee (Don't Walk By, Exilic Church)
"I started to volunteer with Hope for New York affiliates after participating in Don't Walk By, which opened my eyes to how we can serve our neighbors experiencing homelessness and hardships. As a volunteer, it is a privilege to meet these neighbors, hear their stories and even play a part in it.

"I love to serve alongside the other volunteers and the staff members of the affiliates (like City Relief); it's an encouragement to see how their heart for others is lived out in their regular volunteering or career choices.

"For anyone interested in volunteering, I'd encourage you to (1) find friends, family, church, or others to volunteer together with, since it's more fun that way; and (2) when trying a new volunteer opportunity, commit to signing up more than one time. I think it takes a few times to become properly trained, build relationships, and observe the full impact that volunteering can make."
Hear more HFNY volunteers share what they love about serving. And, sign up for our weekly Urgent Needs email (hfny.org/getconnected) to be the first to know which affiliates need your support!