How God Challenged Me to Serve at City Relief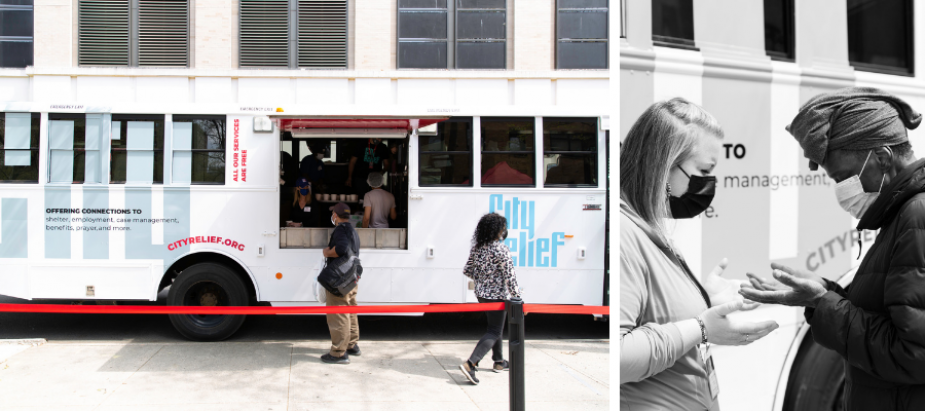 Note: When Exilic held their annual Hope for New York Sunday, congregant Albert Lee was inspired to write about how he began volunteering with City Relief (formerly New York City Relief), whose mission is to compassionately serve the struggling and homeless by offering hope and resources that lead towards life transformation. This post was first featured on the Exilic Church "Voices" blog.
The hardships that the homeless face in my community has had a tight hold on my heart and conscience ever since I was a kid. During college and in my first few years in New York City, I had opportunities to serve or volunteer, but for many reasons—some that were out of my hands, many of my own invention—I did not commit to them. 2020 was supposed to be the year that changed.

My 2020 New Year's Resolution list included a commitment to find an opportunity to serve my neighbors experiencing homelessness. Despite feeling that I was inadequate in experience, knowledge and means, God presented an opportunity to participate in HFNY's annual Don't Walk By outreach event. It was one of my first experiences doing direct outreach to people experiencing homelessness. Along with other members from my church, we canvassed Manhattan and invited people to a hot meal, prayer, medical care, shelter, and connections to ongoing support. I was so moved by the guests I got to meet and pray with. Seeing churches, non-profits, and New Yorkers working together to make Don't Walk By happen sparked a boldness and resolve in me to get more involved with other outreach programs this year.

And then COVID-19 rewrote my resolutions . . . .

During the first month of New York City's lockdown, my world shrunk to the two-block radius around my apartment and my priorities changed. Much of my time in the first few months was focused on self-improvement—I was going to start a creative project, pray and read the Bible more often, stay in shape, stay in touch with friends and family. I filled my mind with thoughts of how I can make myself more disciplined, my life more fulfilling, my relationships more intimate.

But as the months crawled forward, God reminded me of that resolution I made to serve.

As I processed stories about the economic and emotional hardships resulting from the pandemic and the news and histories of racial and economic injustices, it became heart-wrenching to count my blessings in health, relationships, and finances, while others around me were struggling.

As I turned to scripture to find wisdom during the quarantine, God directly prodded my conscience with how the Bible calls Christians to share their time, wealth and influence to serve the poor as part of a wise and good life:
Proverbs 31:8-9 (ESV)
8 Open your mouth for the mute,
for the rights of all who are destitute.
9 Open your mouth, judge righteously,
defend the rights of the poor and needy.
Proverbs 3:27-28 (ESV)
27 Do not withhold good from those to whom it is due,
when it is in your power to do it.
28 Do not say to your neighbor, "Go, and come again,
tomorrow I will give it"—when you have it with you.

In a sermon series on improving our spiritual habits during quarantine and beyond, I was challenged to look at how I was spending my time. I reflected deeply on what that said about my understanding of my family relationships, friendships, work ethic, and social responsibilities, and asked the question: Are my habits striving towards "godliness?" Are my actions inspired by Christ's love?
1 John 3:16-18 (ESV)
16 By this we know love, that he laid down his life for us, and we ought to lay down our
lives for the brothers.
17 But if anyone has the world's goods and sees his brother in need, yet closes his heart
against him, how does God's love abide in him?
18 Little children, let us not love in word or talk but in deed and in truth.

In the wake of George Floyd's death and protests for racial justice, I participated in Exilic's first Justice ministry. As a community, we learned about biblical justice and its applications to current social injustices, asked tough questions and held honest conversations in the spirit of Micah 6:8:
Micah 6:8 (ESV)
8 He has told you, O man, what is good; and what does the Lord require of you
but to do justice, and to love kindness, and to walk humbly with your God?

During those months of emotional turbulence and spiritual unrest, I felt that God was making me more aware of my self-centeredness and shallow understanding of what it means to live with Christ-like love for my neighbors. It led me to open an email from HFNY highlighting "Urgent Volunteer Needs," which connected me to a volunteer opportunity at City Relief.

City Relief operates Relief Buses, which are mobile care centers where staff and volunteers serve homemade soup and bread, distribute hygiene kits, host Life Care Visits, and pray for the needs of our neighbors experiencing homelessness. A Life Care Visit is a one-on-one conversation with a trained outreach staff member, who assesses each guest's situation and develops an individualized action plan, so they walk away with hope and a plan.

I signed up for a "virtual" role to follow up with guests who had previously come to a Relief Bus, check in on how they are doing, and provide referrals to nearby resources for food, clothing, shelter, medical care, and other needs. Because of the increased demand for services during the COVID-19 pandemic, there were hundreds of follow-ups that were needed. I was quite nervous at the start. But I was encouraged by the other thoughtful and brave volunteers who started with me, and by the program director who patiently showed us the ropes and reminded us of the importance of listening, offering prayer, and being a persistent advocate for our guests, even when the struggles they share with us are so difficult.

Over the last five months, I have been blessed to speak with guests who are motivated to stay sober or to reconnect with family and friends. I have felt sadness after speaking with guests who are sick and cannot get medical treatment, or have received eviction notices and feel like they are running out of time. I have felt discouraged by days when I only reach voicemails or discontinued phone numbers.

And I have certainly been humbled. When I signed up to volunteer, I definitely underestimated the challenges. I imagined that I could help set someone's life on the right track if only I could get them in the right program, give them food and shelter, prepare them for a job. And while these steps are important, I've also seen how life transformation is about more than providing for our physical needs; it is about giving hope and providing for our spiritual needs too. Prayer and community are essential, and God is at the center of the process.

I thought that I would learn the ropes much quicker, but more often than not, I find myself texting the program director with a mountain of questions on the right next steps for a guest. And there were days when I felt tired or unmotivated to log on to volunteer, days when I realized the limitations of my own heart's capacity to care for my neighbor. I have gained even more respect towards and gratitude for people like my program director and the other City Relief staff, who devote their working lives to walking alongside and helping to carry the burdens of the poor and marginalized in our community.

What can inspire me to truly love my neighbor as myself, to pursue godliness in those relationships—not just with a few hours per week, but with my whole life? It is not by my own conscience or willpower. I have seen how the strength of my motivation crumbles when I need to turn feelings into action, or when I am out of the spotlight. Instead, I need to recognize that loving and serving my neighbor are not just God's will for my life, but God's will for the life I owe to him. By faith, in treasuring the generous and selfless mercy and love that Jesus poured out for me so that I can have the gift of life, my heart is being molded and transformed to love and serve others. I don't need to feel discouraged by my own lack of ability, because I can trust that the Holy Spirit will guide me and prepare me to do God's will. And when I feel my spirits fading, I should look to God's word to be reminded of his love and his calling for Christians. Just as Isaiah 58 was the inspiration for City Relief's founders, I hope it will inspire me in this year ahead:
Isaiah 58:6-8 (ESV)
6 Is not this the fast that I choose:
to loose the bonds of wickedness,
to undo the straps of the yoke,
to let the oppressed go free,
and to break every yoke?
7 Is it not to share your bread with the hungry
and bring the homeless poor into your house;
when you see the naked, to cover him,
and not to hide yourself from your own flesh?
8 Then shall your light break forth like the dawn . . .
and your healing shall spring up speedily;
your righteousness shall go before you;
the glory of the Lord shall be your rear guard.
Albert has lived in New York City since 2017. He is part of Exilic's City Outreach ministry.