Virtual Spring Benefit 2021 Raises 125% Beyond Giving Goal!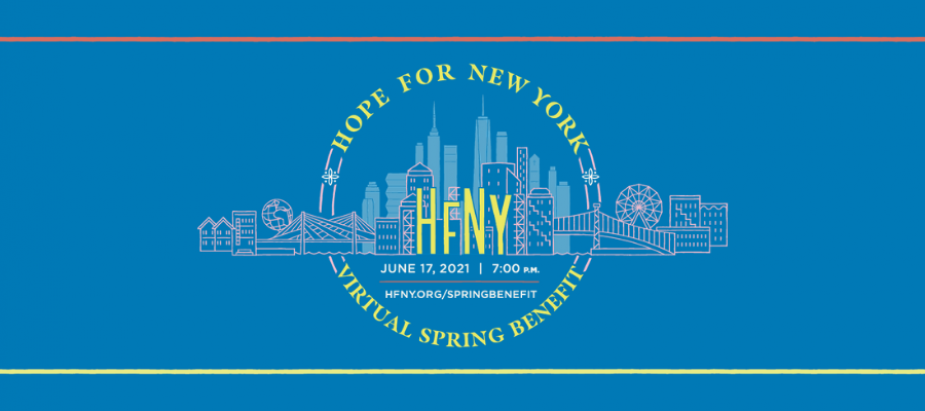 ​​​​At our Virtual Spring Benefit on Thursday, June 17, we celebrated the creative reimagining that HFNY has encouraged and fostered in our network this year!
Our Young Supporters Community Leadership Council sponsored the event along with Exilic Church. Pastor Aaron J. Chung of Exilic hosted our event and led an energizing conversation between three affiliate partners: Beacon Christian Community Health Center (a recent winner of our annual HFNY Pitch Night), Center for All Abilities, Youth for Christ. Each affiliate shared the specific ways their organizations reimagined their programs, events, and initiatives throughout the pandemic to meet the ongoing needs of their community.
Throughout the night, we also shared how HFNY reimagined our own work, highlighting the five ways we refocused tentpole events, annual outreaches, and relationships with our partners and supporters.
We also shared stories of how Graffiti 2 continued serving the Mott Haven community of the South Bronx by expanding and creating new connection points.
At the end of the night, we watched a special artistic performance from That One Ensemble, a group of Juilliard students who created original music composition, spoken word, and choreography for our event.
The best part: Together, the HFNY network helped us go beyond our giving goal by 125%—and reach $125,383! This amount also includes generous giving by Exilic Church, as well as a $50,000 match from an equally generous anonymous donor. With this increase, we can also provide more grant money toward sustaining and stabilizing affiliates during this recovery period of the pandemic!
We are continually reminded of God's faithfulness in working through our affiliates, to strengthen the lives of our neighbors in New York City.
---
If you're inspired to give, here are ways to do so:
If you're inspired to pray or serve, visit our affiliate partner pages: