Don't Walk By 2022: 500 Volunteers Serving 700+ Guests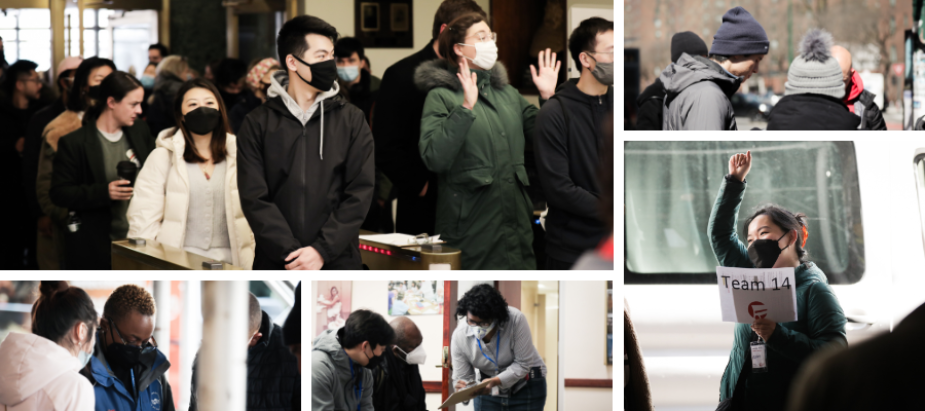 Now in its fourteenth year, Don't Walk By continues to serve our most marginalized neighbors living on the streets.
Last year, during the height of COVID-19, outreach scaled back as Pandemic Don't Walk By, but Rescue Alliance still focused its street outreach on different neighborhoods.
Evolving Don't Walk By for 2022
This year, with rising concerns around the Omicron variant, more changes were made to Don't Walk By. The street outreach was moved to spring and reduced to three weekends between March and April. We had both street outreach and on-site offerings each Saturday at one Salvation Army location.
While Rescue Alliance was unable to offer indoor meals, we provided medical evaluation indoors and resources outdoors such as to-go meals, backpacks filled with care kits, job and housing placement support, and more. For the first time, we also offered shared rides through Uber so that guests could go to The Bowery Mission (flagship location) for overnight shelter.
Volunteers Serving and Guests Served
Over three weekends, hospitality volunteers recorded serving 422 on-site guests who received either meals, supplies, medical services, or a connection to receive more support. And outreach volunteers recorded interacting with 350 guests on the street and 131 encounters without further engagement. 
As always, this annual outreach would not be successful without volunteers, and we're so thankful for the 500+ volunteers who served all three weekends this year (both outreach and on-site in various roles). We had a mix of new volunteers and repeat volunteers who have served for many years!
Looking Ahead
With homelessness, food insecurity, and mental health issues on the rise, Rescue Alliance remains committed to our partnership serving marginalized men and women, and to foster a city where everyone belongs!