Don't Walk By: Changes in 2022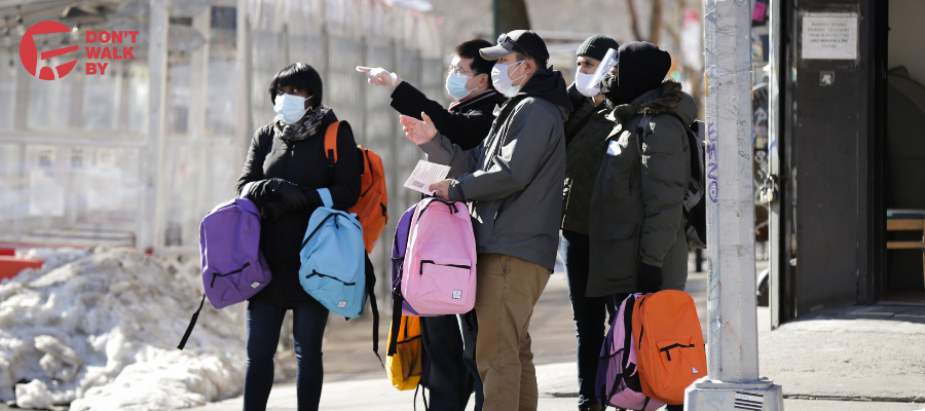 Update (February 2022): Registration for Don't Walk By is now open! Visit hfny.org/dwb to sign up for one or multiple weekends with friends, family, and churches. Read below for more details about what's changing this year.
---
Together with Rescue Alliance, we host Don't Walk By every year in February, the coldest winter month.
In 2022, we will still continue our annual winter outreach, but with three significant changes.
 
1. Outreach is moving to three weekends in March/April. 
With increasing concerns around Omicron, we are delaying outreach and focusing on three Saturdays instead: March 26, April 2, April 9. Each weekend's host site will be at a different Salvation Army location.
Saturday, March 26 (Midtown) - The Salvation Army, 315 West 47th Street
Saturday, April 2 (Downtown) - The Salvation Army, 120 West 14th Street
Saturday, April 9 (Uptown) - The Salvation Army, 540 Lenox Avenue
2. Volunteers are still needed. 
As always, we want our neighbors in need to be seen and cared for! Volunteers are crucial, and we'll need 75 Team Leaders and 250 Outreach volunteers every weekend. We also need Hospitality volunteers and Interpreter volunteers. 
Outreach volunteers who connect with neighbors living on the street can invite them back to The Salvation Army location to receive boxed to-go meals, plus more resources.
3. Volunteers are encouraged to be vaccinated and boostered. 
To ensure the health and safety of all our guests, volunteers will need either proof of vaccination or a recent negative test during check-in. More information to come.

In the meantime, we thank you for your patience and flexibility as we plan this annual event. We also hope that you will find time to serve New Yorkers experiencing homelessness!