Celebrating Our First Round of Relief Fund Grants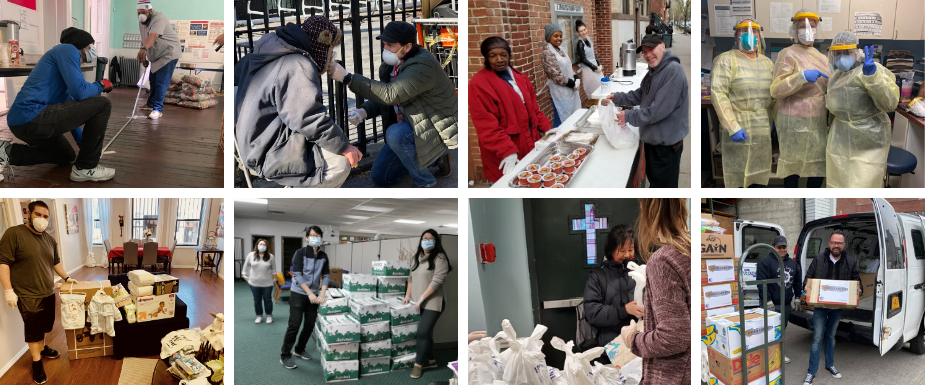 Two weeks ago, in order to mobilize resources for the financial needs of our affiliates, HFNY opened up the HFNY Relief Fund. With the incredible generosity of the HFNY community (thank you!), we provided $375,000 in the first round of grant funding to 27 affiliates, and this will support the relief efforts of their network.

The breadth and depth of the need on the ground in many communities is overwhelming. But in the midst of these painful realities, HFNY and our affiliates are pressing into the incredible hope and promise that God is doing a new thing, especially for those who are the most vulnerable in New York City. Here are more details on the impact of COVID-19 across vulnerable communities throughout our City and the way HFNY grants are helping:

1- Increase in need from the homeless and unemployed. With most public places closed and more limited in-person social services available, more New Yorkers need essential needs such as hot meals, clean clothes, and shelter (with a shower and restroom). Some affiliates are now seeing double the number of clients, which now include those recently laid off who need groceries for their families or rental assistance.

How HFNY Relief grants will help. Grants will cover the costs for meals, groceries, Personal Protective Equipment (PPE), gloves, thermometers, hand sanitizer, equipment to implement social distancing measures, mobile washing stations, and staffing that are needed for relief efforts and social services (rental assistance etc.).

2- Increase in need from other marginalized communities. Families with babies and young children have limited funds for diapers and baby care items; expectant moms face concerns about their own health and the health of their baby; survivors of trafficking have lost income and can't cover rent; those with chronic illnesses and those with disabilities are isolated and alone, finding themselves sinking into despair and depression; immigrant communities have limited language capabilities to navigate resources.
 
How HFNY Relief grants will help. Grants will cover costs for rental payment for clients on the brink of eviction, the transition to virtual classroom instruction that include providing ESL lessons, the technology for virtual relational connections (to provide emotional and spiritual support), and gift cards for families to cover basic household needs.

3- Increase in need from youth mentors and their students. As NYC schools have transitioned to remote learning, HFNY affiliates serving youth in low-income neighborhoods have re-imagined their programs to provide virtual mentoring connections, virtual relationship building opportunities, and in-person deliveries of essential supplies to family homes.

How HFNY Relief grants will help. Grants will cover costs for the tech equipment and school supplies for virtual learning and virtual relationship building.

4- Increase in need from our affiliates themselves. All of our affiliates have been impacted by the significant loss of revenue during this period. Many have experienced a reduction in donor giving and face the unknowns of what the economic situation will look like in the months to come. Affiliates (as well as HFNY) have either canceled, rescheduled, or re-thought how to approach crucial fundraising events, such as spring benefits; without these events, there will be revenue gaps of $50k-$500k for each affiliate.

How HFNY Relief grants will help. Grants will cover costs for operations and programs, including staff, utilities, rent and supplies. This will ensure that affiliates maintain stability while continuing to provide necessary services in their communities.

These are just a few ways that the HFNY Relief Fund will help resource the relief work across the City through our affiliate network. If you've already been generous to the HFNY Relief Fund, thank you—you helped make the above grants possible. If you haven't already donated or would like to donate again, more relief work is happening on the ground and HFNY will continue to release additional grants, as funds are available. Donate today to help make more stories of hope possible: hfny.org/relief
Photos provided by our various affiliates