Why I'm Still Called to Serve at The Father's Heart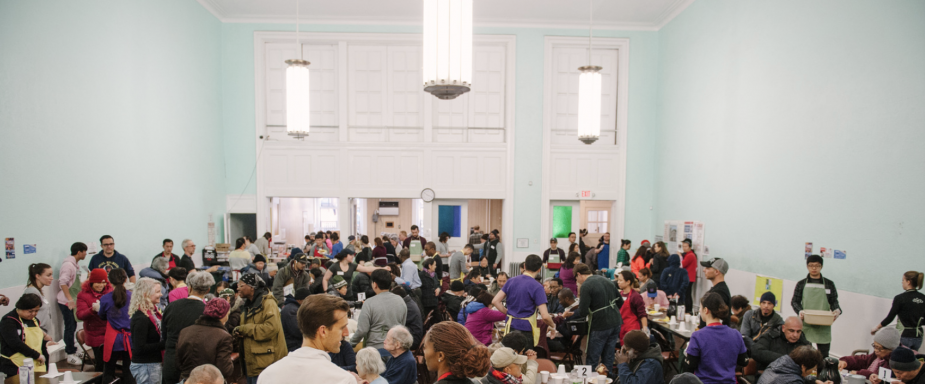 As the reality set in that New York would become the latest flashpoint in a global pandemic, I considered what opportunities I had to serve during this time. The Lord provided me several ways to help from a safe distance, including financial gifts and prayer meetings on Zoom. But, having spent many Saturday mornings volunteering at the free breakfast and food pantry at The Father's Heart, I also felt the unmistakable call to wrestle with whether He was leading me to continue serving there, in person.

First, I asked myself if I was in a position to volunteer safely and not expose others to undue risk. Since I live alone and work from home, I'm not in close contact with many people during the week. My life circumstance of social isolation gives me a low risk of exposing others and being exposed. I'm also healthy and not in a high-risk category, if I were to be infected. If this did become necessary, I could feasibly self-quarantine (with occasional, contact-free re-supplies via Seamless, God bless them!), without infecting anyone else. As I thought about these factors, a pattern started to emerge: I noticed that certain painful situations in my life—like singleness and solitude—that I've often prayed for God to change, might be things God intended in a special way for this time. These factors, and the glimpse of how His Masterly touch has been weaving my circumstances to prepare me in ways that challenged my understanding, helped my understand my ability to continue serving in public without fear, but within the guidelines of hand-washing, protective gear, and social distancing.

Next, I asked myself how serious the needs were. Even in good times, there are hundreds of individuals and families in New York who rely on The Father's Heart to get enough to eat each week. In fact, food pantries like The Father's Heart are deemed essential, but many have now closed because they cannot operate without volunteers. I know that a staggering number of people have lost their jobs, and many restaurants and bodegas have shuttered, limiting access to food in many neighborhoods. I know that unlike other needs, hunger gets serious within hours. I know many of our regular guests are completely alone, and desperate for the smiles, listening ears, and relational warmth that The Father's Heart is known for, even if the hugs would have to wait for another day. And, I know that many of our guests are Chinese immigrants who face violent, racist attacks and need a safe place to obtain food and encouragement, as well as bilingual volunteers who can help them stay informed as things change rapidly. There was no question; the stakes are still high and the needs still urgent.

Finally, I asked myself how God might want to shape my heart in the midst of trouble in New York. The truth is, there has always been a mystery about why Christians—people united by the belief that our sins are forgiven because Jesus died in our place—have such a strong record of responding to God's call to serve the poor and powerless. If we believe our sins won't be counted against us, and our good deeds can't save us, shouldn't we be the least motivated to sacrifice our own comfort and safety for others? And yet, the service and sacrifice of Christians has been turning the world upside down for two thousand years, ever since the life, death and resurrection of Jesus. The only way I can reconcile this odd pairing of pardon and personal sacrifice is to recognize that serving, and sometimes even suffering, are ways that I experience a closeness with Jesus that I don't have when I'm living my own preferences and priorities. The Apostle Paul expressed in Philippians 3:10, "I want to know Christ—yes, to know the power of his resurrection and participation in his sufferings, becoming like him in his death." I've learned in my walk with Jesus that following His example of living in total reliance, and submitting to Him in all circumstances, whether it be physical death or just a mini-death of my will in service to others, is the sure path to experiencing resurrection in this life, which often takes the form of richer personal intimacy with Jesus.

Considering all this, I realized the call to continue serving every Saturday morning at The Father's Heart. In doing so, I've seen the warmth and courage of my fellow volunteers as they distributed a squeeze of hand sanitizer for each guest, plus grab-and-go breakfasts, grocery bags, bibles and face masks. And seeing the smiles and lifted spirits of our guests as they received these things is like watching the body of Christ move on earth in real time. It's hard to imagine a greater present-day resurrection than this!
Katie Sullivan has served at The Father's Heart for over five years and is a member of Redeemer Downtown.