COVID-19 Stories of Hope (Volume Two)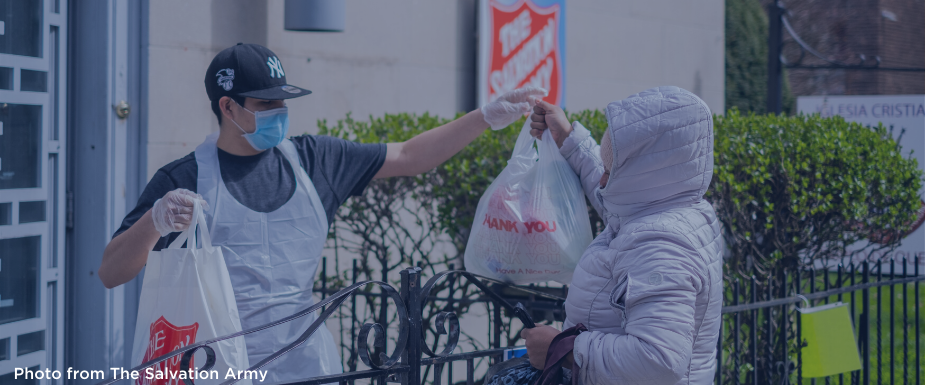 Once a week, we'll share brief stories from our affiliates who are still serving communities across the five boroughs. Our affiliates will provide updates on how COVID-19 has changed their programs and services, and how they're remaining hopeful about God continuing to work in our city.
Also:
---
The Salvation Army - Greater New York Division

The Salvation Army - Greater New York Division is committed to meeting the community's needs, no matter the crisis. As an internationally recognized Disaster Relief Agency, The Salvation Army is on the front lines of this pandemic, meeting the basic needs of individuals and families, by providing food, hygiene products, spiritual and emotional support, and shelter. Watch a video on how The Salvation Army has transformed their soup kitchen service into a to-go meal service. 
---
Do For One

Do for One has amazing advocates who are still finding ways to connect with adults who have developmental disabilities. These advocates continue to get groceries and essentials like medicine (dropping them off safely at the door), texting & calling, and letter writing. Below, Executive Director Andrew Oliver explains how COVID-19 is affecting the New Yorkers with developmental disabilities who are part of the Do For One community.
---
Cru Inner City

Cru Inner City supports pastors and ministry leaders across New York City. They're dedicated to supporting church partners with physical resources and equipping them with training and encouragement. See the video below to hear from Bray and Reggie from Emergency Relief Distribution. Learn how Cru is resourcing communities in the Bronx in light of COVID-19. 
---
HOPE FOR NEW YORK RELIEF FUND

Support the Hope for New York Relief Fund and provide critical relief grants and resources to sustain our 60+ affiliates. During the COVID-19 crisis, our affiliates are still serving vulnerable and marginalized communities across all five boroughs.