Dream Center: Living Life Together in New York City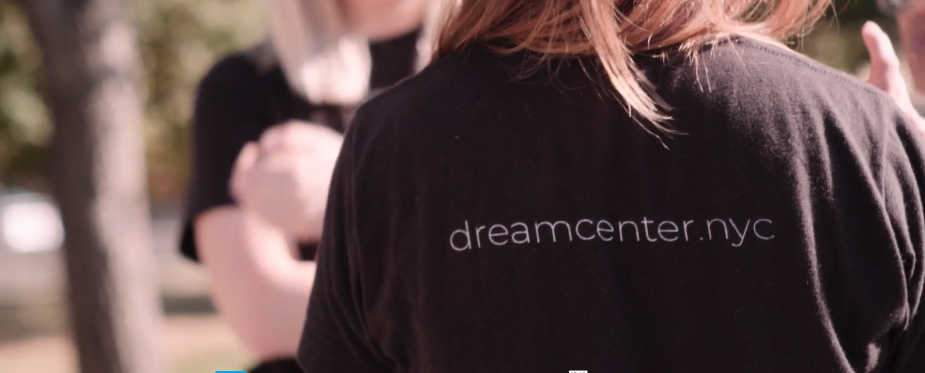 Hope for New York had its annual Fall Benefit on Thursday, October 10 at The High Line Hotel. The inspiring night included affiliate stories from Stella Reed (Executive Director of Dream Center NYC), an encouraging talk on the verse Micah 6:8 by Dr. Michael Keller (Pastor of Redeemer Lincoln Square), and musical performances by Liz Vice and Mason Jar Music.
Watch a video featuring Stella with one of Dream Center's dedicated volunteers, Miss Emma, about how Dream Center engages with its community. Then, read Stella's story of how "Hope For New York has equipped, trained, and partnered with the organization to see our neighbors flourish, not only physically, but spiritually."
---
Dream Center: Living Life Together from Hope for New York on Vimeo.
---
In 2013, my husband and I founded Dream Center, a philanthropic arm of the New York City Dream Center Church to help fulfill our church's deep conviction to serve our neighbors. This conviction was born in response to the way we believe God has loved and cared for us, and it stirred up this deep longing to see individuals in our community discover their God-given identity, step into opportunities, live out their purpose, and serve their neighbors in the same way.

So we started the best way we knew how, we began by just listening to the needs of our neighbors and being consistently present. The deeper our involvement grew within the NYCHA Chelsea houses, which are actually only a few blocks from where we are tonight, the more we saw families who felt overlooked, under-supported, and honestly unwelcome in the neighborhood many had called home their entire lives, due to the realities of this neighborhood changing rapidly, becoming more expensive and thus less accessible to our neighbors experiencing poverty. We realized that it wasn't enough to just be there, we had to act. So we began to build partnerships with local companies and organizations to help provide for our neighbors' physical and social needs in these housing communities.

As our impact grew in our neighbors' lives and more people joined us to see our vision of every person having the opportunity to live out their God-given dream, we knew that Dream Center would need to grow. We needed to grow the reach of our organization through volunteers, funding, and partnerships with other churches and organizations.

It was in this season that we were introduced to Hope for New York through our friends and fellow affiliates at the New York City Rescue Mission. I could detail the many ways our partnership has been a gift to us, but I will only hit a few highlights.

HFNY partners with their affiliates in three ways, through volunteers, financial resources and capacity building which is best practice training and equipping for non profits. Our first real involvement was through one of these capacity building programs, and our team was at every single training session. We were that organization that soaked up everything we could to help take us to greater impact in the communities we were serving. These trainings, called Learning Labs, helped equip our staff to build plans and systems to align with non-profit best practices, build sustainable funding streams, redesign our programs, and redevelop our board.

Hope For New York did not just provide us with the tools and know-how to serve our neighbors, but chose to join us in our efforts. In 2018 they mobilized 1,359 volunteer hours to our organization. That is over one thousand hours of playing with children, visiting the lonely and elderly, packing and delivering household items, praying, laughing, and doing life with our most under-served and marginalized neighbors.

If we had all night I could tell you a number of stories of the impact volunteers have had, like when a young woman who volunteered with us was able to communicate with a number of our neighbors for the first time because she spoke Cantonese and was able to break through a language barrier our team battled for years. Our partnerships have also grown with other HFNY affiliates like Young Life, GEMS, NYC Relief, and Avail, and how we have seen God work through unity in his body.

Since our partnership began, we've been able to successfully double the number of our sites in Chelsea and expand into East Harlem (where we met Ms. Emma who you saw in the video). We have not only been able to expand the size of our programs, but we've been able to deepen the impact of our work. Through HFNY grants we received in 2018 and 2019, we were able not only to grow the community market aspect of our Adopt-A-Block program, which provides resources and support to public housing sites but also to launch weekly Community Dinners.

Community Dinners, have created perhaps the most significant touchpoint with our city that we have ever experienced. This program allows us to prepare, serve and share a warm, family style meal with the communities we serve. This has given us space to gather around a table and share our stories and develop the value of dignity within our organization. As you heard me say in the video, this isn't a program about just serving a free meal to our community, it is about living life with our neighbors. And the launch of these was only made possible through the HFNY grant process.

Dream Center has always been a group of really passionate people who have the desire to serve our neighbors. But through this partnership, we now have a clear structure built on non profit best practices, new streams of funding, a clear mission and vision, a vibrant board, one that includes a member of the community, and we are connected to organizations and churches throughout the city. And because of this, together, we have a deeper, more sustainable impact in the lives of thousands of New Yorkers.

It is an honor to be part of this movement and see how HFNY is training and empowering thousands of New Yorkers to fall in love with God's exhortation in Micah 6:8, "to act justly and to love mercy and to walk humbly with your God."

The last two years of being an affiliate organization have been a great privilege. We will always be grateful for this partnership and we look forward to the years ahead serving this great city together.