9 Drop-the-Mic Quotes from Our Church Partner Leaders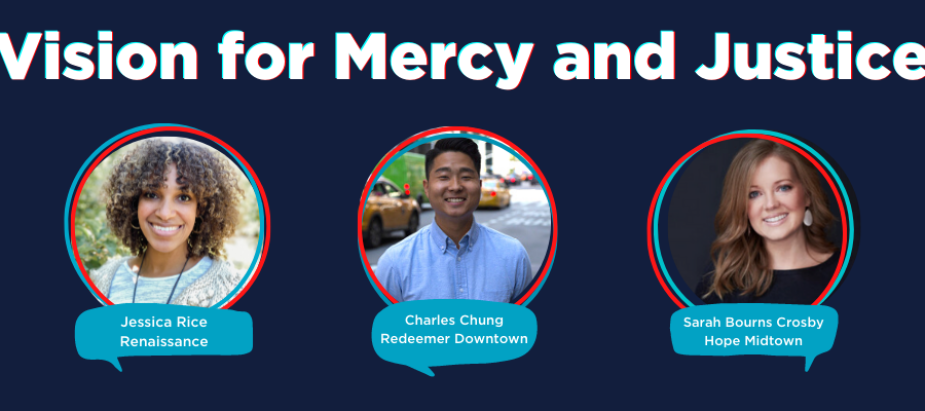 Three of our church partner leaders joined our Young Supporters Community for a special panel last month. For the first time, Jessica Rice of Renaissance Church, Charles Chung of Redeemer Downtown, and Sarah Bourns Crosby of Hope Midtown shared the same (virtual) space at our "Vision for Mercy and Justice" event.
Host Eric Jeng (and YSC Prayer Coordinator) guided our leaders through an incredible conversation about what it means to pursue mercy and justice; what moments in their life "wrecked" their perception of mercy and justice; and what steps to take to ease into mercy and justice work.
Here a few drop-the-mic quotes our church leaders shared that we hope you will remember!
From Jessica Rice
Justice is foundation of God's throne. God will do all the things, set all things right. 
Prayer is important to process moments when we have a hard time letting go or feel like we've failed. Ask him to lead and soften our hearts. Be honest in hard moments.
Greater focus on systemic injustice has meant losing proximity to people. Make choices to avoid creating more injustice. "You say you love the poor, tell me their names."
From Charles Chung
Whether you're a Christian or not, we are hardwired for justice, of what's right or wrong. As Christians, we know justice is part of God's character.
Anger isn't a bad thing, but it shows where something is absolutely wrong ... Without justice we are still incomplete.
Mercy breeds more mercy. Justice breeds more justice in the world ... God will make things bear fruit. It's not for our benefit but for our gain to give.
From Sarah Bourns Crosby
Mercy starts with compassion, grace, eyes to see, and kindness. Justice starts with honor dignity and equality. 
The homeless are not homeless first. They are friendless and family-less first … Homelessness is the effect of many "less-nesses."
If it doesn't look like whole community flourishing and thriving, then there is no justice … God is making or remaking, creating or recreating.
Follow our Young Supporters Community on Instagram to watch clips of our leaders talking!