Tithing My Time at The Salvation Army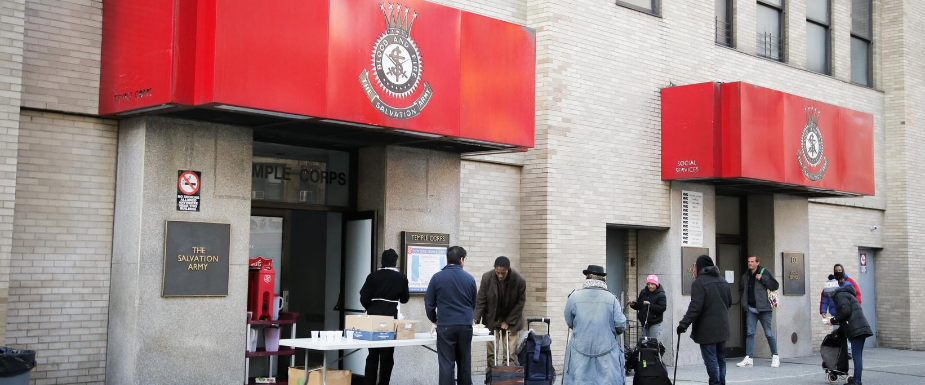 When I came to New York City, it was because my husband's job had transferred us here for two years. My job didn't have the option of transferring, so I quit, but I wasn't exactly happy about it. It felt like the perfect job for me, and for a while I considered staying behind while my husband came to New York. It would only be two years, after all. And moving just seemed so unreasonable. We'd be giving up a third of our income to move to a city with a much higher cost of living. Rent alone would consume most of our income.
But as I prayed about it, I had an overwhelming sense that this was what we were being called to do. I made the decision not work during our time in New York. Instead, I would tithe my work, so to speak, by volunteering and trust God to provide. And as worried as we were for the first few months and as crazy as my husband thought I was for volunteering when I "should be getting paid," God has so perfectly provided throughout these past two years.
Hearts transformed through kindness and gentleness
I didn't know much about New York before moving here, but having lived all over the world (mainly in developing countries as assigned through my husband's work) I had learned that engaging with, serving, and coming alongside the poor, needy, and marginalized anywhere will give you real insight into that culture and what God is doing in and through the people.
Almost immediately after we moved, I found out about Hope for New York through Redeemer East Side. There were limited opportunities to volunteer during the traditional work week, one of which was at The Salvation Army New York Temple on West 14th Street. So that's where I went. It wasn't long before I settled into a routine there—and I have stayed there for the past two years, building relationships both with the staff and with those we serve.
I'm not sure what I expected of the city, but I continue to see hope in and through my many experiences at The Salvation Army. I see hearts transformed through kindness and gentleness—even through things as simple as a genuine smile from a familiar face or the quality of service and food (fresh food prepared by a chef…not leftovers!). I see a city known for its hard-heartedness with the potential to become a place people flourish, regardless of their circumstances, and it helps guard my own heart from becoming hard and selfish and indifferent.
Growing my hope, joy, and love for this city
Volunteering with The Salvation Army has reinforced my faith and provided so many examples of how great God is! He has proven that even as I gave up my income to serve full time in New York, He has so perfectly provided for our every need—going above and beyond and enabling me to pour out even more. He has also used this to continue to build up my identity in Him, which fosters in me a genuine desire to and joy in serving others and helps shift my focus from the things of this world to Jesus Himself.
I came to the city not knowing anyone and without any idea of what I would do with my two years here. I'm so thankful that volunteering with The Salvation Army has led to some of the most valued relationships of my life, and certainly of my time in New York, and it has also given me a purpose for being in this city.
I've seen how simply being available, even for as little as a couple hours a week or month, will grow your hope, joy, and even your love for this city. And that can translate into daily contentedness, regardless of your circumstances. I see it through so many of the volunteers I serve with—they leave changed and so often return! I would challenge anyone to look for a volunteer opportunity to commit to and watch how God will change you for the better and build community in new and rich ways that you couldn't have imagined.
What God will do with a willing heart
The gift of God's grace needs to be shared, given away, lavished on others if it's going to continue to flourish in me. Offering another human being dignity is a powerful gift. Every person, made in the image of God, no matter how that image may appear through my imperfect vision, is valued by God. I see Jesus in so many of those I serve.
As I have tithed my time, I have been absolutely blown away by God's provision! And I believe God specifically used The Salvation Army as a place I could invest, build relationships, commit, and give freely, all of which allowed my heart and my trust in Him to be molded by those I serve with daily whose circumstances are far more challenging than mine. Volunteering is so much less about what I have to offer than what God will do with a willing heart.
Become a volunteer today! Find both in-person and virtual opportunities on our Volunteer page.
Photo by Austin Wideman/The Salvation Army