Prayer for Men and Women Experiencing Homelessness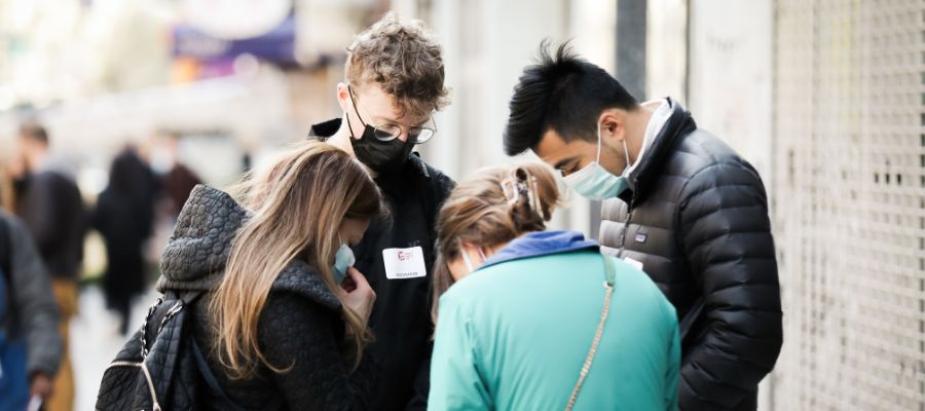 Our friends at Redeemer Lincoln Square recently prayed for men and women experiencing homelessness in our city. 
Tricia, a member and Hope for New York volunteer who has served at Don't Walk By, shared the meaningful prayer below. Watch her also say the pray during service! And, make sure to sign up to volunteer at Don't Walk By this year: hfny.org/dwb
---
Creator, Lord, maker of all things, you've formed our every being you know our deepest thoughts, our dreams, our expectations, and our needs. Today, we pray this prayer specifically for those in our city experiencing homelessness.
We know the circumstances that bring one to homelessness are incredibly personal and unique. But we also know that you know each and every story. Lord, we call you provider as you have taught us. Hear these prayers for those in our city in need.
We lift up those are worried about where they will sleep tonight. Provide a warm and safe place to sleep, rest, and to seek comfort.
We pray for those who have suffered without a place to call home for many days, where systems have failed them and daily needs have gone unmet. Provide a safe place that provides belonging and structure. Provide food care and warmth. We pray that you look upon and meet their needs.
We pray for those with medical needs, mental illness, and addictions. Provide healing, wisdom, and medical professionals, treatment and care.
We lift up those who, due to a lack of housing, are suffering from a loss of connection and relationships. Father, see their loneliness. Meet them in love and we pray for new social connections and spaces of joy.
We pray for the many organizations that support those without housing, that they will have sufficient staff, food, volunteers, and resources to continue providing personal care.
And, we pray for the many who sacrificed their money time and talents to extend your mercy. Bless them and their families. Protect them from exhaustion and from over-extending themselves.
We especially pray over the next month for those who will serve as volunteers at Don't Walk By, that they will be welcoming, kind, and patient. We lift up the partner organizations that will participate, the medical and legal professionals, the food providers, the transportation services.
We pray for everyone who will work together for the good of those being served in a way that extends dignity and honor. We pray for those who work at the four organizations: The Bowery Mission, The Salvation Army, City Relief, and Hope for New York.
We pray for strength and collaboration, to provide the best possible care to as many people as possible. May you bless and create a safe and welcoming environment for all the guests and volunteers that would lead to more people being housed, fed, and cared for. And, we pray that they would experience Christ's love and care.
Lord, we thank you for ultimately being the one who has provided a home for all of us. May you bless: our hearts to care for your people all made equal in your eyes, our mouths to continue to speak for those without a voice, for those who are vulnerable, for those who are homeless, and for all those who fall through the cracked and poor social systems of our city.
May you bless our hearts and our hands to diligently continue to serve and do your work. And, bless our minds with wisdom to seek justice and equality, even in complicated situations where there are no easy answers.
May you teach us to serve the city, filled with your people for whom you love, by relentlessly doing your justice, loving intentionally, and being kind. Teach us to walk each day with humility, always seeking the prosperity of the city in which we dwell, while also relying on you to transform housing into homes that point to our ultimate dwelling place with you.
Lord, hear our prayer. Amen.