Pray March Act Protest: What I Saw, Heard, and Prayed For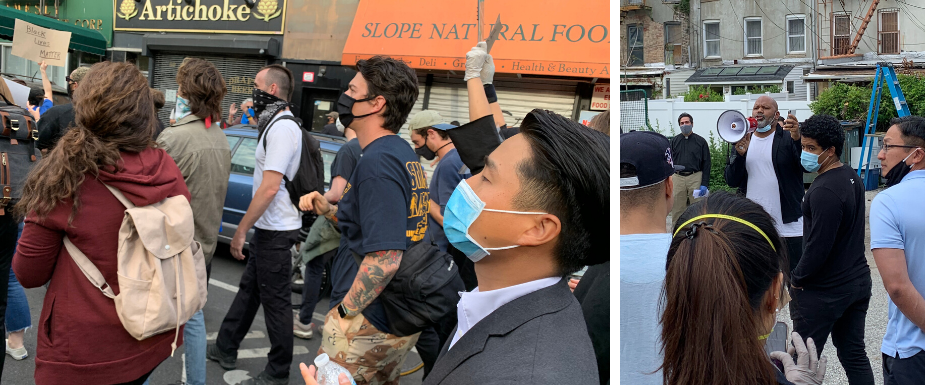 Note: We asked our Hope for New York volunteer to share his experience (and photos) attending the Pray March Act protest on Tuesday, June 2 in Brooklyn. Read a prayer by Alex to racial reconciliation and justice in our country.
I remember that Tuesday, May 26. In my excessive perusal of social media, I came across a news story that truly appalled me. I couldn't bring myself to watch the video, but I read up on the grossly unjust way that George Floyd was taken from this earth by the very ones who had sworn to protect and serve him. My first thought when I read this was, "Not again."
Growing up as an African-American male in the USA, a deep sorrow is stirred in me to know that the stories of injustice in the African-American community that have been passed down is continuing to this very day. It is almost like a wash, rinse, and repeat cycle. And combine this with the Ahmuad Arbery and Breonna Taylor news stories that occurred recently, I was really at a point of frustration and anger. As a believer, the Holy Spirit reminds me in scripture that anger in itself in not a bad thing, but it does warn us not to sin in that anger (Ephesians 4:27). With that thought in mind, I wanted to find a way to channel my anger toward the change desperately needed in our society.

Later that week, as I continued my perusal of social media, I came across an invite for the Pray March Act protest that was being held on Tuesday, June 2. The organization (& Campaign) and the church (The Bridge Church) that were hosting the event are two that I know and trust, and they sparked my interest in attending. The main reason I attended the protest was due to the Gospel-framework that the organizers wanted to carry it out. With my mind set, I looked forward to attending the protest.

Between the day when I saw the invite and decided to go, and the actual day of the event, the news cycle was filled with stories of unrest about the very area that the protest was scheduled to be located. So, when the day actually came, I had a certain unease, but I was determined to not let it stop me. I left the house that evening with uncertainty of what may happen, but I trusted in the sovereign hand of God and moved in confidence as I headed to downtown Brooklyn.

Arriving at the meeting location, there was a small crowd and I was highly encouraged to see a lot of familiar faces I have fellowshipped with in the past. A lot of greetings and cordials as we waited for instructions from Pastor Roberson of Bridge Church in Brooklyn. Once he got started, he did an excellent job communicating the conviction he and the other church leaders felt in organizing this march. He also communicated the difference of this protest, compared to other protests that have been going on, by explaining the godly nature we were to carry ourselves in. The nuance of carrying out this protest in a biblical manner is what would allow us to be the salt & light we're called to be in Matthew 15:13-16.

The small crowd that was there when I first arrived multiplied exponentially in size by the time the pastors finished speaking and praying. After 20-30 minutes to sort out the crowds and get people in position, we were ready to begin marching. I can't explain the energy that I felt, but to see and hear the multitude of people as we began walking was a sight to behold. The slow steady march had us walking down 5th Ave in Brooklyn, and as we walked different chants were yelled out and the crowd responded in kind. There were chants of "No justice, no peace," "Say their name" (followed by the name of an African American who had been unjustly killed by the authorities), and "Black Lives Matter."

As we walked along the street, there were people lined up along the street and on the roof of their buildings, and people hanging out the window of their apartments cheering on the protest as we marched by. There were also kind strangers on the sidewalk handing out water and snacks. Even when the protest blocked traffic, the drivers in the cars was very patient and even gave signs of approvals. To the credit of the crowd, they were able to effectively part so that cars could get by when needed.
Before long. we found ourselves on Flatbush Ave marking the final march toward the Barclays Center where the pastor was going, to read Psalm 136 and deliver a short message. On Flatbush Ave, you could see a line of cops on the side of the road and a NYPD helicopter in the air. For me, seeing all that did create a sense of unease as I hoped that everyone would stay cool, and to the credit of everyone, they did. By the time we reached Barclays, the pastor began reading the Psalm and giving the short message; unfortunately, I was too far away to hear anything. Afterwards, the ushers announced that the Pray March Act protest was over, so we could all get back to our homes before the 8 p.m. curfew.

I was quite moved by the body of Christ coming together to look for ways to engage our leaders and demand that justice roll down like a river and righteousness like an ever-flowing stream (Amos 5:24). Although it's a small step, my prayer is that God will strengthen those involved to stay on the journey. Much like the persistent widow in Luke 18, I hope we, the body of Christ, continue to pray and not lose heart, knowing that God is working in so many ways that we're not aware of. Thanks be to God that He is not someone who is far off and unfamiliar with our pain.

Emmanuel, "God with us," emptied himself by taking a form of the servant and experiencing the pain, the sorrow, and the injustice of this world. He was a victim of injustice himself as he was beaten, broken, and hung on a cross to die. So, I'm thankful that he hears our cries and shows compassion and mercy to us.
Alex is a Volunteer Team Leader for The Father's Heart.