Hope for New York Tribute to Tim Keller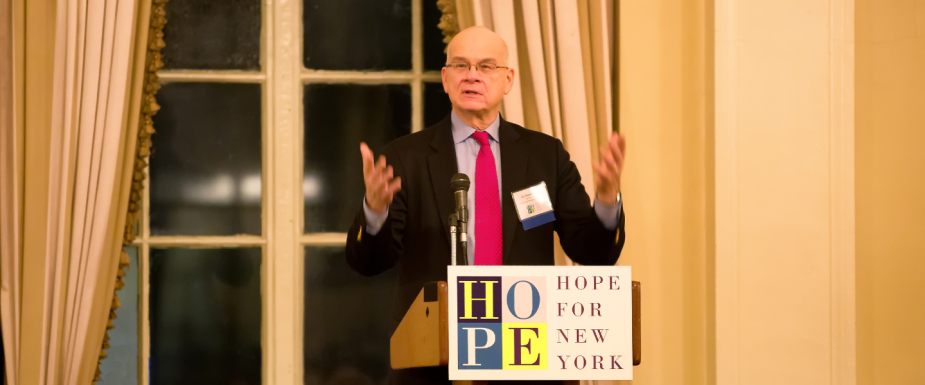 As I reflect on Tim Keller's life and legacy, I can only express my deepest gratitude for the ways God used Tim to challenge me and our generation to engage the beauty of Christ and to seek the 'shalom' of the city. He called all of us to truly love our neighbors and to participate in the renewal and restoration of this world.
It was that call on my life that led me to Hope for New York many years ago to be a part of an amazing vision to see a New York City where all New Yorkers flourish. Tim founded Hope for New York because he recognized that we are all called to care for the least of us, the everyday neighbors in need we encounter on the streets and in our communities. He always reminded us that "we are not a church for ourselves, but for the city." 
Tim always challenged us to leave the four walls of the church and to love and serve our fellow New Yorkers. Speaking about the reason for Hope for New York, Tim Keller said, "In Jesus Christ, God literally identified with the poor. His name, his heart. But, frankly, in Jesus Christ he put his body on the line. He took a body and he became poor with us." 
In November, Tim and his wife, Kathy, honored us with a beautiful video message at our annual Fall Benefit. They celebrated our 30-year anniversary by sharing about our history and their own hope for our city. The couple shared, "Our main hope for the future of Hope for New York is that it continues growing, to serve not just the needs of other New Yorkers, but as a model for other churches who wish to follow Jesus' command to be a neighbor to anyone who needs mercy."
We are humbled and honored to continue Tim's legacy and future hope for our work.
Thank you, Tim, for your faithful service and for always reminding us to love our neighbors. 
>> Read more: CEO Letter: Remembering Tim Keller