Help Fill His Toy Store with 4000+ Toys This Year!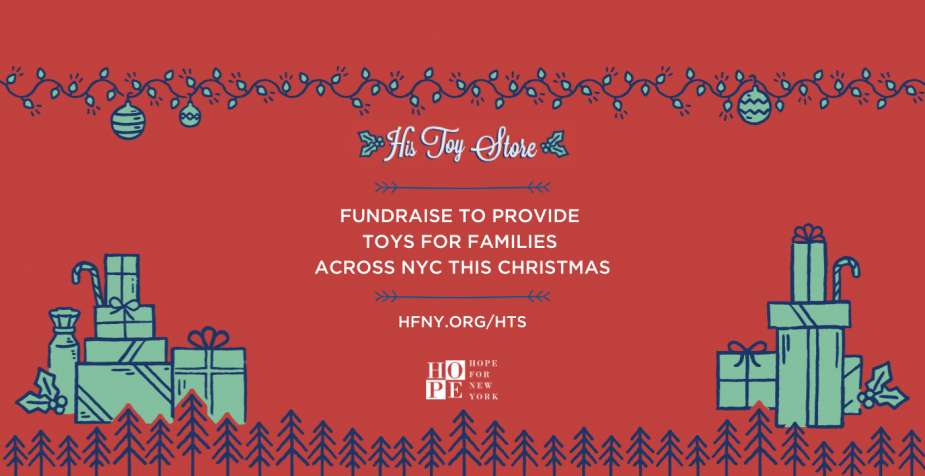 In 1995, Hope for New York created and launched its annual Christmas outreach "His Toy Store" to provide toys and gifts for families in need across New York City. In recent years, HFNY has worked with affiliates and church partners who provide space to host pop-up stores from Brooklyn to the Bronx. Each pop-up store is "owned" by a HFNY partner church, and is planned by a volunteer committee from that church.

Every fall, HFNY staff recruits volunteers, asks our affiliates for toy requests, and identifies different toys for various ages and genders. This way, stores are stocked with toys that reflect the communities we serve. Toys are then delivered to each of the pop-up store and our volunteer committees help with decorating stores, setting up gift tables, and wrapping gifts. One volunteer revealed, "There is nothing like the joy of giving a gift to your child. It should be everyone's experience."
His Toy Store is here! from Hope for New York on Vimeo.
On the day of His Toy Store, parents arrive to rest and shop for toys while their kids are entertained separately with crafts and activities. Last year, one mother, who had been serving homeless neighbors through her church, was so moved that she would be giving Christmas presents to her three sons. "I was out giving to others—and God provided for my family," she shared. Our affiliate Dream Center also shared: "Families left feeling dignified and cared for. It was so wonderful to be a part of. For Dream Center specifically, it allowed us to connect with people from their communities in a different, refreshing way."
This year, HFNY's goal is to purchase over 4500 toys for close to 1800 families. And pop-up stores will be stocked for two Saturdays on December 7 and December 14. What we fundraise will go toward supporting families in need during this Christmas season.
To support our His Toy Store, our goal is to raise $95,000 by Nov 30. As of Tuesday, November 19, we have fundraised over $40,000, which will provide more than 1800 toys to five stores. So help us stock ALL pop-up stores by giving at hfny.org/hts.
Extend the joy of giving, which will last beyond Christmas and into the new year!
Plus: