Bring on the Christmas Cheer—His Toy Store is Here!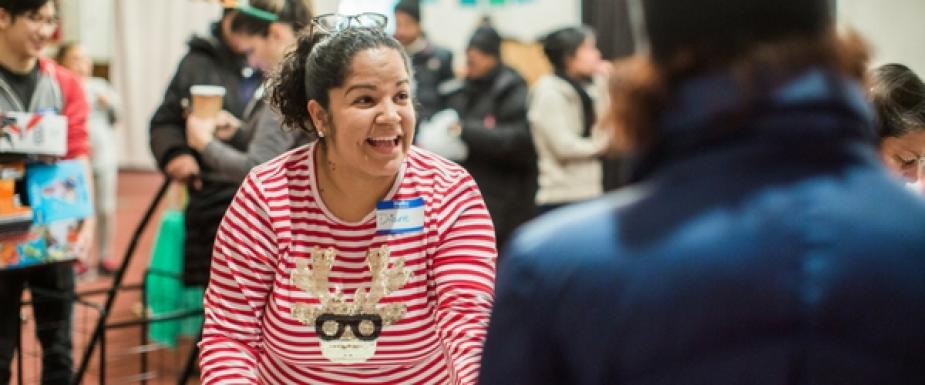 It's almost that time of year again—time for gathering families, sharing meals, and giving gifts. And we at Hope for New York want to make sure that families across our city experience joy this Christmas.
That's why we started His Toy Store, our Christmas outreach to families across the city with limited financial resources. This December, we're partnering with 11 churches and 21 affiliates to host 12 pop-up shops across the city where families can shop for new toys for their children.
Who shops at His Toy Store? Shoppers include families in low-income neighborhoods, parents who are formerly incarcerated and reconnecting with families, and moms and dads in residential recovery programs.
Moms like Debra. Debra struggled with a 20-year addiction to alcohol and 10-year addiction to heroin. She was not allowed to have contact with her three children. But His Toy Store gave her a chance to reconnect with her family.
"His Toy Store holds a very special place in my heart because it was the vehicle that God used to begin the process of restoration with my children," Debra, who now works at HFNY affiliate Brooklyn Teen Challenge, said. "And it is my prayer each year that it would be used in the same manner for another to begin the restoration process with their children."
And that's just it. We see His Toy Store as more than just a one-time outreach. Families are invited by our affiliate organizations they are in relationship with beyond His Toy Store, which means even deeper, year-round support for the families who shop at these stores.
At Christmastime, we remember the extravagant love God has for His people, and His Toy Store is one way we communicate that our God not only provides our daily bread, but also demonstrates extravagance and generosity toward us.
That's where you come in.
This year, we're hosting our biggest His Toy Store outreach yet. Our goal is to provide 4,060 toys for 1,960 families—that's a 56 percent increase in toys over last year! We rely 100 percent on donations to make sure our stores are stocked with toys like action figures, stuffed animals, baby dolls, and soccer balls.
Will you join us to see even more families across New York City experience joy this Christmas?
How to Give: Giving to His Toy Store is completely online! Visit hfny.org/HTS to provide toys for a child, a family, family and friends, neighbors, or an entire store! Donations must be received by November 27!