The Battle to Belong in Western Queens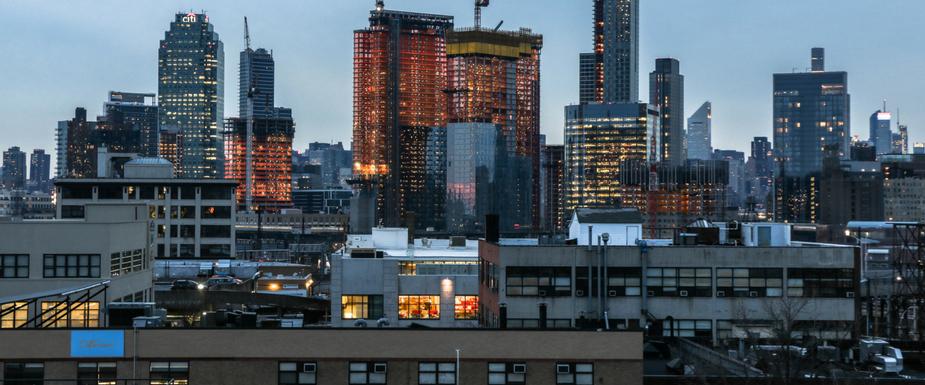 "For I am about to do something new.
See, I have already begun! Do you not see it?
I will make a pathway through the wilderness.
I will create rivers in the dry wasteland."
Isaiah 43:19
Can something be old and new at the same time? That is the experiment the neighborhood of Long Island City is in the throws of trying to figure out. It is a neighborhood as old as Queens itself—yet it is also brand new. It is a grandfather and a toddler all at the same time.
It isn't a classic gentrification story, but rather a story centered on the creation of an identity. Warehouses and empty lots are being turned into high rises and grocery stores. Young families are pouring into the neighborhood, not so much displacing others, but pioneering brand new buildings and condos laced through the industrial and ethnically diverse neighborhoods of western Queens.
Long Island City is officially the country's fastest-growing neighborhood, according to a recent piece in New York Magazine. "Since 2010, more than 12,000 apartments have been built there, with over 9,000 more on the way," the author writes. "That's more than in any other neighborhood in any other city in the country."
In the midst of such growth and new development, the overwhelming questions on everyone's mind are: How can I belong? Can true community and sustainability be found in the midst of such great turnover and change?
I believe there are three barriers to belonging that are prevalent in a place like western Queens: Exclusion, Transiency, and Pain Intolerance.
Exclusion
The culture we live in, aided by technology, has divided us socially, racially, and economically. Many people move into the city or a neighborhood like LIC and have no way of actually getting involved in community.
The difficulty of making friends, coupled with how time strapped everyone is in the city, often leads people to latch on to anyone else who they find to be similar. This results in many people reducing their reference group to people who are just like themselves, which perpetuates the exclusionary aspect of our culture.
Transiency
Transiency has the ability to destroy a sense of belonging, and our present culture almost promotes transiency. As you become more successful, you should desire a better apartment. Perhaps if you continue to develop, that will take you to a better neighborhood. This might even grow into the desire to own a house or have some space, which takes you out of the city completely. Sometimes it has nothing to do with personal desires, but is simply the result of the flow of your career or the needs of your kids. On many levels, transiency is just a current reality, especially for those of us who live in a city like New York.
However, this reality, if not intentionally challenged, erodes the sense of belonging. It leads us to a place of not fully investing in other people. We find ourselves asking the other person if they will be around for a while, and, depending on their answer, we determine whether we are going to emotionally invest in that person or not.
This works both ways. Perhaps you find that you are the person who is not sure if you are going to stay here for a while. Maybe you are not sure exactly how this new neighborhood will work out. You may find yourself holding back on going deep with your current friendships, because you are one promotion or one interview away from "moving up" and "moving out" yourself.
When people allow themselves to be led around by the culture of transiency they constantly battle feelings of loneliness and isolation.
Pain Intolerance
Our culture has an aversion to pain. We all do, really. We do not like to be uncomfortable, and we don't want to have to push through struggles and trials. In the height of the challenges we all inevitably face in a city like New York, many simply choose to move on to whatever is next, especially if they are already living out of a transient mindset. The mentality is that there is almost no reason for someone to wrestle with discomfort if they are not going to be around long enough to participate in the benefits on the other side.
*   *   *
These barriers can be disheartening—or they can serve as an opportunity for the radical hospitality of Jesus to enter in and transform a community.
That's why Wellspring Church NYC, where I pastor, is seeking to foster the experience of a true sense of belonging through perhaps our most meaningful, practical, and biblical response: opening up our dinner tables.
The Son of Man came eating and drinking. The gospels are full of stories of Jesus at a meal. This is why we have placed the Alpha course (a series of dinners open to anyone and everyone interested in asking questions about life and faith) at the center of our outreach to the neighborhood.
New Testament scholar Robert Karris says, "In Luke's Gospel Jesus is either going to a meal, at a meal, or coming from a meal." In fact, apparently this happened so often, that his enemies accuse him of being "a glutton and a drunkard."
Although he was certainly not a drunkard, it draws our attention to the amount of time Jesus spent throughout His ministry eating and drinking with others. He had three years to bring about the Kingdom of God, and He chose to spend much of His time with all kinds of different people, sitting around a table, breaking bread.
This is the way of Jesus.
I love how Tim Chester puts it: "His mission strategy was a long meal, stretching into the evening. He did evangelism and discipleship round a table with some grilled fish, a loaf of bread, and a pitcher of wine."
If the church desires to look like and reflect the ministry of Jesus, it should at its core be looking for ways to expand its reach to welcome others in, to feast with them, and to point them toward the bread of life that will always satisfy.
PRAY FOR LONG ISLAND CITY
Pray that the dinner tables throughout Long Island City would reflect the Kingdom of God as they become places where socio-economic and racial barriers are dissolved and true fellowship happens between people from very different walks of life.
 
Pray for the families, single mothers, and children in our neighborhood to find a sense of belonging and stability in the city despite the transiency—and that people would choose to stay and commit to being in community with their neighbors.
 
Pray for Wellspring Church NYC to be a hub of community through our Alpha courses and by creating a space where all who are seeking can come and eat and belong—even before they believe.
*   *   *
Seth, his wife Jenavene, and their little one on the way, have lived in western Queens the past 9 years and are blessed to pastor Wellspring Church NYC. Additionally, Seth is the Founding Director of the Renew Queens community development center and is a hub church director for Alpha USA.
Lead image by Lucas Klappas.